By Xiaomei Cai, L.Ac., Ph.D. & Qineng Tan, L.Ac., Ph.D.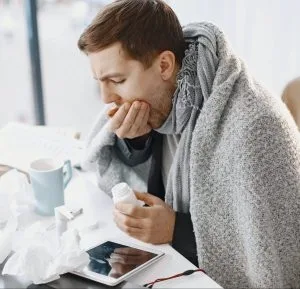 Chest cold with a productive cough, shortness of breath, coughing up mucus? These could be acute bronchitis symptoms. Acupuncture and TCM herbs can provide an alternative bronchitis treatment to help relieve chest congestion and a chronic cough.
Bronchitis is a respiratory infection in which the bronchial tubes, or airways, become inflamed. It typically causes chest congestion, a wet cough, coughing up phlegm, and difficulty breathing. Acute bronchitis usually develops due to the same kinds of viral infections that cause the common cold or pneumonia.
Chronic bronchitis refers to long-term inflammation of the lungs and bronchial tubes that is not related to an infection. If a person has a cough with mucus that lasts for months, or happens year after year, it is considered chronic bronchitis. This can happen as a result of smoking, and/or exposure to air pollution.
Like emphysema, chronic bronchitis is considered a chronic obstructive pulmonary disease (COPD). There are other lung conditions that can cause symptoms similar to those of bronchitis, including: asthma, sinusitis, whooping cough (pertussis) and tuberculosis.
Acute bronchitis usually clears up within a few weeks, but the persistent cough may linger. Antibiotics do not help treat viral infections, so the treatment for bronchitis is usually just to help suppress the cough and reduce aches and pains. 
TCM treatment with acupuncture and herbs can help relieve bronchitis symptoms without side effects. It can also help remove pathogens and blockages affecting the lungs, so that bronchitis doesn't turn into a chronic, recurrent condition.
Bronchitis Symptoms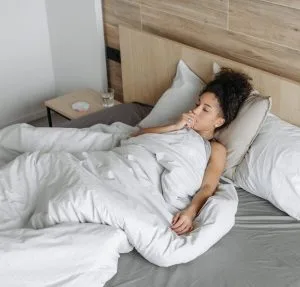 Acute bronchitis causes the airways of the lungs—the bronchial tubes—to swell, and the lungs to produce extra mucus. Coughing, with clear or yellowish phlegm, is the primary symptom of bronchitis.
The most commons symptoms of bronchitis include:
Cough, phlegmy cough, cough with mucus, productive cough, persistent cough

Chest soreness, tightness in chest, chest pain

Fatigue, feeling tired

Shortness of breath, trouble breathing, wheezing

Stuffy nose, runny nose

Low grade fever
Is bronchitis contagious? It is not so much bronchitis as a condition—that is, inflammation and congestion in the lungs—is contagious, as the virus or bacterial infection that caused bronchitis to develop is contagious for a period of time. The coughing may last for a while beyond the infectious period. Sleeping can be difficult, because the cough tends to worsen when a person lies down.
Bronchitis Treatment
When you seek treatment for acute bronchitis from a physician, it is generally treated in the same way as the common cold. Recommendations will include:
Rest

Increase fluid intake, drink more water

Take OTC pain relievers

Take expectorants or cough suppressants to manage coughing

Use a humidifier or sit in a steamy shower room to help relieve congestion
These remedies may help to temporarily relieve symptoms while a person gets over the infection. However, some of these medications can cause side effects, and they do not do much to help prevent bronchitis from coming back the next time a virus is going around.
Chronic bronchitis, as a COPD, is considered a chronic illness that must be managed, so as to slow its progression. Quitting smoking is the first recommendation. Then, bronchodilators, steroids, and/or antibiotics may be prescribed to help open the airways, reduce inflammation, and prevent recurrent infections.
These medical interventions, too, can come with significant side effects. Corticosteroids, in particular, if taken over a long period of time, can cause liver damage. 
Making a major lifestyle change, like getting rid of a nicotine addiction, is easier said than done. 
Fortunately, acupuncture and TCM herbs offer a complementary medicine to help relieve bronchitis symptoms, treat the deeper root causes, and also help with quitting smoking, if necessary.
Can Acupuncture Help Bronchitis?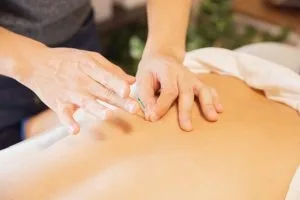 According to TCM theory, bronchitis is the result of pathogenic forces like Wind and Dampness affecting the lungs and other organs systems that are interrelated. An acupuncturist looks for the particular patterns of symptoms in each individual, and tailors acupuncture treatment and herbal supplements, according to which organ system patterns are involved. These may include:
Lung dampness

Lung deficiency

Lung dryness

Phlegm-heat obstructing lung

Wind invasion

Spleen Qi deficiency

Spleen/Kidney Yang deficiency

Qi and/or Yin deficiency
Multiple studies have shown that acupuncture treatment and herbal cough preparations can be even more effective than conventional medicines when helping to relieve post-infectious chronic coughing.
Studies have shown that acupuncture can help reduce bronchial inflammation and damage, relieve coughing and reduce phlegm production. It can also help boost immune function.
One study detailed how patients with chronic bronchitis, who had been taking steroids for years, were able to reduce or entirely stop their use of steroids after receiving acupuncture treatments for a few months.
Chinese herbs, used in combination, can help relieve bronchitis symptoms and work on other levels, too. They can help clear toxins from the tissues and promote regeneration of new, healthy tissue, and improve immunity, so that the next time a virus is going around, the body is better equipped to fight it off quickly.
Top 5 Tips for Getting Rid of Bronchitis Naturally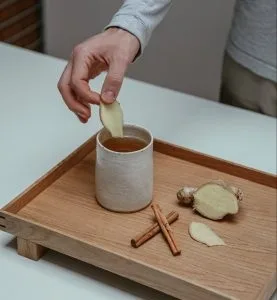 Getting acupuncture treatment and specific herbs for your condition will be helpful. In addition, you can help strengthen your lung health by practicing these habits:
Avoid dairy products, which increase mucus production

Drink warm herbal teas, fresh ginger tea, and lemon water to help stay hydrated and thin phlegm. Avoid caffeine and alcohol, which dehydrate you. Ginger helps reduce inflammation.

Steam an asian pear until very soft, and eat like applesauce. This helps clear mucus.

Breathing exercises can be helpful; ask your acupuncture practitioner to show you some good breathing techniques.

Take Yin Qiao pills at the very first sign of a cough or sore throat. This is a traditional Chinese formulation that helps ward off colds and coughs if taken early. 
Acupuncture Near Me for Bronchitis in West Los Angeles
When a respiratory infection turns into a nagging cough, or worse, into chronic bronchitis that keeps coming back, year after year, it is important to seek treatment. With acupuncture and TCM herbs, it is possible to recover from a bronchial infection more quickly and comfortably. With regular acupuncture "tune-ups," you can end the cycle of a chronic cough.
*This article is for education from the perspective of Traditional Chinese Medicine only. The education provided by this article is not approved by FDA to diagnose, prevent, treat and cure human diseases. It should not stop you from consulting with your physician for your medical conditions. Traditional Chinese Medicine is based on Qi, which is an invisible force that usually cannot be observed by modern science. Because science focuses on testing ideas about the natural world with evidence obtained through observation, these aspects of acupuncture can't be studied by science. Therefore acupuncture and Chinese herbs are often not supported by double-blind, randomized trials, and they are considered alternative medicine therapies in the United States.