By Xiaomei Cai, L.Ac., Ph.D. & Qineng Tan, L.Ac., Ph.D.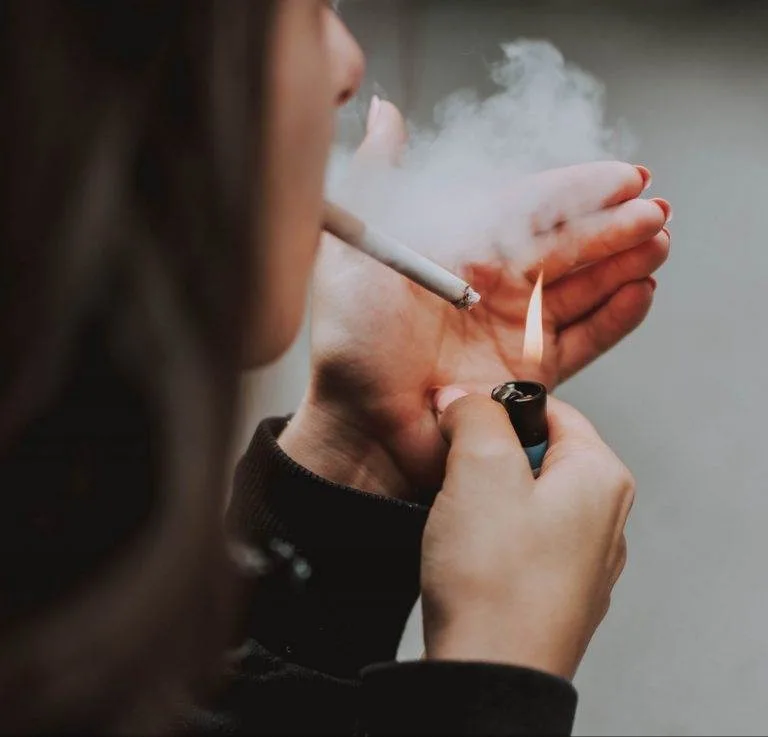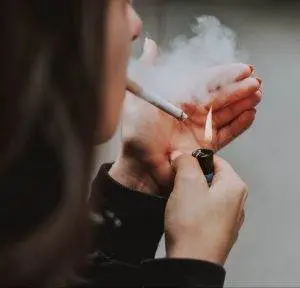 Have you been trying to stop smoking, but are having a hard time quitting? You know that quitting smoking will definitely improve your overall health and longevity, but that doesn't mean it's easy to do. Acupuncture treatment can reduce cravings, alleviate withdrawal symptoms of nicotine, and help relieve anxiety you feel when you stop smoking. 
Smoking tobacco causes several million unnecessary deaths every year, and is associated with multiple chronic diseases, including lung disease, cardiovascular disease, diabetes, lung cancer and other types of cancer. But deaths related to smoking are just the tip of the iceberg. According to the CDC, over 16 million Americans are currently living with a chronic disease caused, at least in part, by smoking. Smoking increases the risk of stroke, erectile dysfunction in men (ED), low sperm count, and autoimmune diseases such as rheumatoid arthritis. On average, smoking takes ten years off a person's life.
Why do we keep doing this to ourselves? Because once you have a smoking habit, quitting smoking is very hard. Tobacco contains a natural chemical called nicotine. Nicotine is a highly addictive substance. It acts upon the neurotransmitters in the brain that release dopamine: the "feel-good" chemical. When you inhale tobacco smoke, nicotine goes directly to your brain, and you get an immediate "reward" in the form of dopamine. Once your brain gets used to this reaction, it wants more of it. Even when you know you should stop smoking, and you want to quit, a part of your brain is signalling you not to stop.
Vaping, or smoking from a vape pen, or e-cigarette, is the latest trend. There has been some suggestion that this form of smoking causes less damage than cigarettes do, because Juul pens don't have many of the toxic additives that are in regular cigarettes. So far, researchers don't know how long-term vape use will affect people's overall health. However, it is clear that people who vape can easily become just as addicted to nicotine as smokers of cigarettes, cigars, and pipes do.
Once the brain has become attuned to the dopamine reaction caused by nicotine, a very powerful social-emotional component is added to the physical, chemical component. Being in a place where you have smoked in the past, seeing a friend who smokes, smelling smoke in the air, and of course, seeing an ad for cigarettes–all these sorts of cues in your daily environment can have a dramatic impact on your desire to smoke.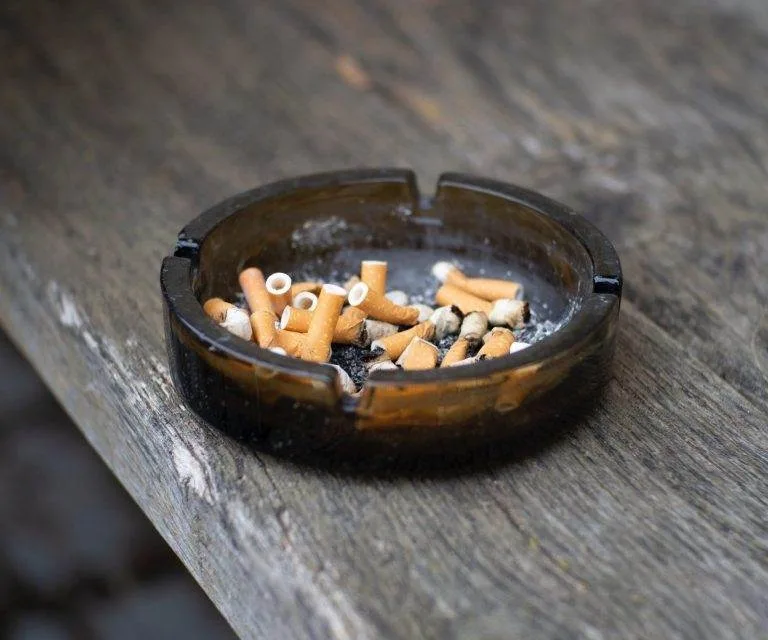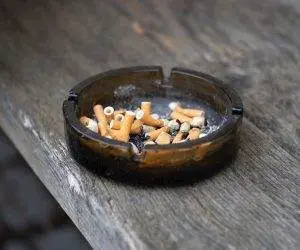 Almost half of all smokers in the U.S. make an attempt to quit smoking each year. But, obviously, people fail in their attempts to stop smoking all the time. Nicotine withdrawal symptoms include intense anxiety. When faced with a powerful combination of physical and emotional stress, most people will return to that quick fix. Even when a person develops serious problems due to smoking, like a constant cough, emphysema, sleep apnea/snoring, infertility, acid reflux/heartburn, loss of smell and taste; even when a person knows that second hand smoking can hurt their loved ones, they still may find it impossible to quit. People need help to quit smoking.
Typical smoking cessation aids include nicotine gum or patches, medications, and programs designed to educate and support people as they try to overcome smoking addiction. While these methods offer help, they do not work for everybody. Most people have to try to quit smoking many times and try different methods before finding success. 
Many people gain weight when they quit smoking, because the cravings for a cigarette are replaced by cravings for sweets or other foods and drinks that keep your hands and mouth occupied. It's more than just an oral habit, though; nicotine affects the way your body uses insulin and releases glucose, so when you quit smoking, there is a very real change in blood sugar levels and a subsequent desire to eat more carbohydrates. When it feels like you have to choose between two different risk factors–being a smoker, or being overweight–,it may seem like a hopeless situation. 
TCM for smoking cessation offers a different, multi-pronged approach. With acupuncture treatment for nicotine addiction, we can work on several of the problems smoking causes at the same time. Using acupuncture to stimulate specific pressure points for reducing cravings and alleviating symptoms of smoking withdrawal is only one way that TCM can help people quit smoking and regain good health. Our TCM detox program may also be helpful.
Top 10 Symptoms of Nicotine Withdrawal
When you try quitting smoking "cold turkey," you will probably feel more severe symptoms of withdrawal for the first few days. Withdrawal symptoms can last for several weeks. Nicotine withdrawal symptoms include:
Intense cravings for a cigarette that last for 5-10 minutes

Food cravings, weight gain, rise in blood sugar

Sleep problems, insomnia

Persistent cough, "smoker's cough"

Flu-like symptoms: fever, fatigue, body ache, headache
Medical Approach to Quitting Smoking
Nicotine replacement therapy (NRT) has been the common form of help for nicotine withdrawal for decades. This involves using nicotine patches, nicotine gum, or lozenges, which help people gradually wean themselves off of nicotine by lowering the dose over time. Nicotine patch side effects can include a rapid heart beat, dizziness, headaches, and nausea.
Medications such as Zyban and Chantix are also used to help people quit smoking. Zyban (Bupropion) is also known as Welbutrin, which is used to treat depression. A prescription medication called Varenicline (Chantix) is the newest medical treatment available to help people stop smoking. Varenicline works by blocking the receptors in the brain that react to nicotine to stimulate dopamine production. Varenicline is still fairly new, and researchers do not yet know the long-term effects of taking it. Common Chantix side effects include nausea, insomnia, and headaches; more serious psychiatric reactions, such as depression and suicidal ideation have also been reported. Drug interventions for smoking cessation are more effective when combined with education and counseling.
The most effective methods to help people stop smoking treat both the brain chemistry that is causing nicotine addiction and the emotional symptoms that arise when quitting. TCM methods of acupuncture and herbs are naturally able to help address addiction because they work on the whole person–physically, mentally, and spiritually.
How Can Acupuncture Help You Quit Smoking?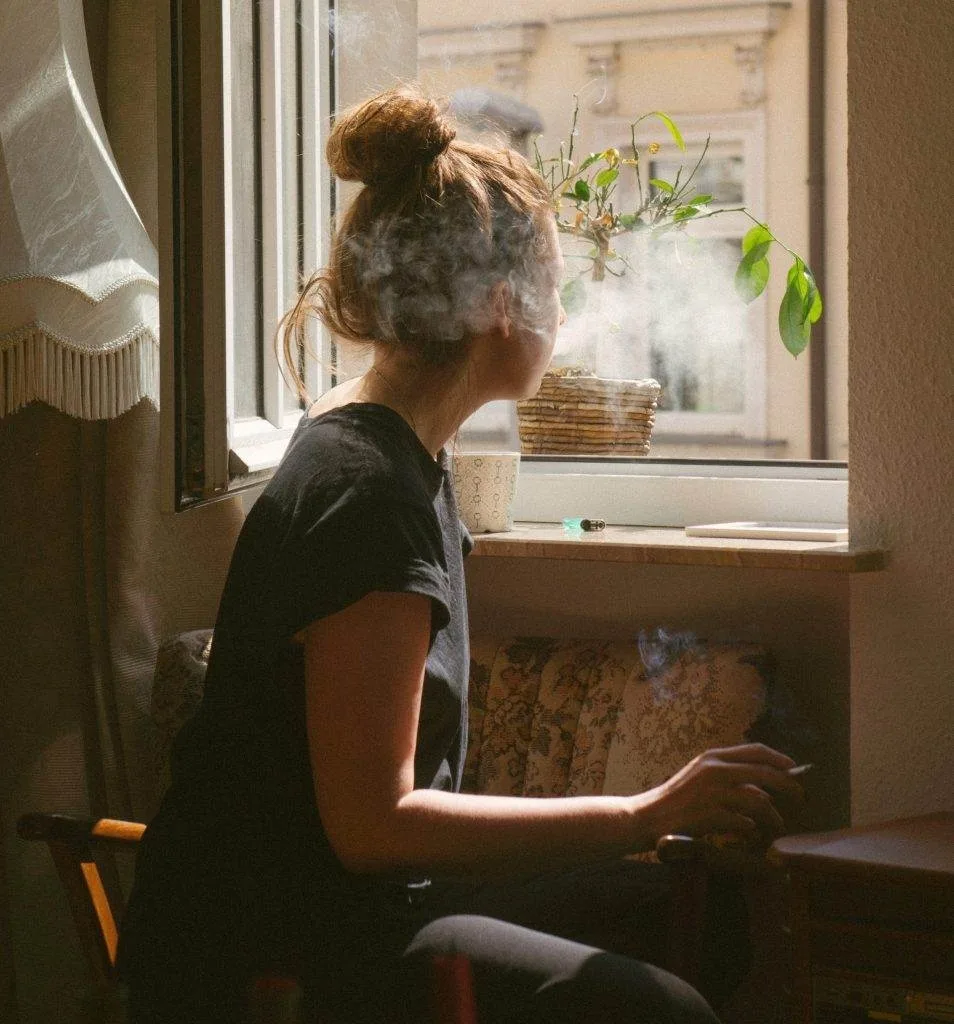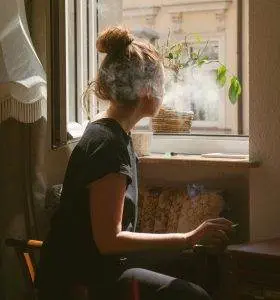 In conventional medical terms, we mostly think of cigarette smoking as being harmful to the lungs, due to smoke inhalation, and the cardiovascular system, due to the well-known fast heartbeat we associate with nicotine use. In TCM, we do consider that smoking weakens the lungs, but this, in turn, causes problems in the other major organ systems of the body. A buildup of heat in the Heart and Stomach can lead to stagnant Liver Qi. These forces are what cause the withdrawal symptoms of anxious feelings, heart palpitations, irritability, food cravings, and poor sleep. With acupuncture and herbs, we work to clear heat and detoxify the lungs and all of the organs.
A specific set of points on the outer ear are often used to help combat the cravings associated with overcoming addictions of all kinds, including nicotine dependence. Often we will send a patient home with small ear seeds fixed to these points so that they can be squeezed and stimulated whenever you feel an urge to smoke. This will also help with food cravings and prevent overeating and weight gain when you quit smoking. 
Acupuncture helps to release endorphins, replacing the familiar dopamine hit with a different sense of relaxation. Endorphins promote a sense of wellbeing and relieve pain. Dopamine works on the reward center of the brain, causing a mental and emotional reaction that leads to addiction. Acupuncture treatment works holistically to help relieve emotional pain–symptoms of anxiety and depression–by positively impacting neurochemical activity. Shifting from dopamine dependence to more abundant endorphins and serotonin will help restore restful sleep.
A controlled trial study compared patients who received acupuncture, patients who received acupuncture and education and counseling, and patients who received sham acupuncture to help them quit smoking over a period of four weeks. The percentage rate of patients who had quit smoking after 18-month follow up was highest among those who received acupuncture, and especially highest among those who had acupuncture and counseling.
A study of almost 3000 people who received acupuncture treatment for smoking over an eight week period showed that the treatment helped many people abstain from cigarettes, and helped many more to cut back on how many cigarettes they smoked.
Chinese Medicine Near Me to Stop Smoking in the Great Los Angeles Area
The decision to quit smoking for good can be a life-changing one. But for most people, it's also one of the most difficult things they will ever do. Cigarettes are addictive, and to stop smoking, you may need professional help. If you've already tried NRT and not been able to finally quit, you may want to consider trying the TCM approach. Whether you chain smoke or only vape socially, whether you are quitting smoking because you want to increase your chances of getting pregnant, or you have lung cancer stage 4, it is never too early or too late to stop smoking. Acupuncture for smoking cessation can help you get past the cravings for cigarettes that make it so hard to quit. Acupuncture and herbs can not only help you kick the habit, but can also help you get rid of that cough, brighten your skin, and sleep better. Most of all, you will have made an important choice to prioritize your health and prevent chronic illness from taking hold later in life.
*This article is for education from the perspective of Traditional Chinese Medicine only. The education provided by this article is not approved by FDA to diagnose, prevent, treat and cure human diseases. It should not stop you from consulting with your physician for your medical conditions. Traditional Chinese Medicine is based on Qi, which is an invisible force that usually cannot be observed by modern science. Because science focuses on testing ideas about the natural world with evidence obtained through observation, these aspects of acupuncture can't be studied by science. Therefore acupuncture and Chinese herbs are often not supported by double-blind, randomized trials, and they are considered alternative medicine therapies in the United States.