By Xiaomei Cai, L.Ac., Ph.D. & Qineng Tan, L.Ac., Ph.D.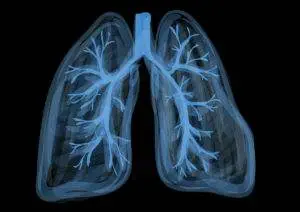 Persistent cough with green or yellow mucus? Chest pain when you cough? High fever, sweating, trouble breathing? It's important to know the signs of pneumonia, a serious lung infection that can be caused by bacterial infections or viruses like the flu, COVID-19, or even the common cold. You should seek medical help if you believe you have pneumonia; acupuncture and herbs can be considered as integrative care to help relieve symptoms of pneumonia.
The term pneumonia refers to an infection in the lungs that causes inflammation in the alveoli, or air sacs. These air sacs are clustered like fruits around the ends of the branches of the bronchial tubes that extend deep into the lungs. The alveoli inflate and deflate like tiny balloons. They are responsible for taking the oxygen from the air you inhale and depositing it into the bloodstream. When they become inflamed and filled with fluid due to infection, it is hard to breathe. If pneumonia infection is so severe that your body is not getting enough oxygen, then it can become quite dangerous.
Pneumonia can be caused by a variety of infectious bacteria or viruses, and often develops after, or in the tail end, of some other type of illness. A pneumonia infection can range in seriousness from mild to very severe. Bacterial pneumonia requires treatment, especially for people who are considered high risk, or it can be potentially life-threatening. Acupuncture and TCM offer an effective adjunct to conventional pneumonia treatment, allowing people to recover more quickly and fully.
Early Signs of Pneumonia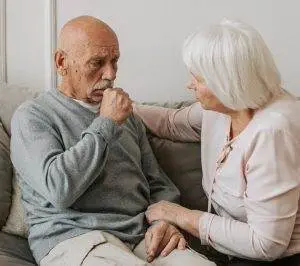 In many cases, you start out having a cold, flu, or some other illness, and then it "turns into" pneumonia, as your lungs become inflamed and filled with pus or mucus. Symptoms of pneumonia include:
Cough with green or yellow mucus

High fever

Sweating

Trouble breathing, breathing fast

Chest pain, especially when coughing

Feeling confused or delirious

Lips and/or nails turn blue

Loss of appetite
Signs of pneumonia in children may be different that symptoms of pneumonia in adults. There may be coughing, wheezing and high fever, but there may also be vomiting and/or diarrhea, especially if the infection is in the lower part of the lungs. Children are at risk for becoming dehydrated under these circumstances.
Walking pneumonia symptoms are generally milder than other types of pneumonia, similar to symptoms of the common cold, like a low grade fever and hacking cough. A person may not feel so seriously ill that they can't go about normal activities: hence the name "walking pneumonia."
Pneumonia can affect just one one lung, or both. When both lungs are infected, it is called bilateral pneumonia, or double pneumonia. This does not necessarily mean the case is more severe.
Is Pneumonia Contagious?
Some types of pneumonia are caused by exposure to bacteria or viral particles in the air or on surfaces. Germs that cause colds and flu can lead to some people developing pneumonia, while other people could be exposed to those same germs and not get pneumonia. It really depends on a person's constitutional health and immune system.
Other kinds, like fungal pneumonia or aspiration pneumonia, are not caught through contagion. They develop because of some substance, other than germs, getting into the lungs.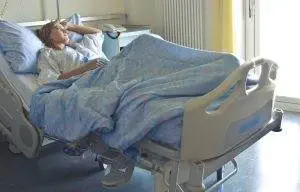 Some types of bacterial pneumonia would not be passed from person to person in normal day-to-day contact, but they may occur when a person is in a weakened state and/or an institutional setting. For example, klebsiella pneumoniae is a type of  bacteria that normally lives in the intestines and doesn't cause illness. However, in a hospital, it is possible to be exposed to this type of bacteria via a worker's hands or contaminated equipment, such as a catheter or ventilator. If this bacteria then reaches the lungs, it can cause pneumonia symptoms. 
Many people "catch" pneumonia when they are in a hospital or rehab setting. Sometimes, people develop pneumonia after being on a ventilator as treatment for some other illness or while recovering from surgery. When this happens, it is called hospital-acquired pneumonia, or health care-acquired pneumonia.
Top 5 Pneumonia Causes
Pneumonia can be caused by various types of infections: bacterial, viral, or fungal. 
Bacterial Pneumonia – also called pneumococcal pneumonia, or streptococcus pneumonia, this is the most common type of pneumonia, and is caused by strep germs that cause upper respiratory illnesses. Almost a million Americans get this kind of pneumonia every year. It can happen at the tail-end of a cold or flu, or after having surgery or being hospitalized for some other reason. People with respiratory problems like asthma or emphysema are at higher risk, as are people who are immunocompromised.
Viral Pneumonia

– this is caused by an influenza virus or respiratory syncytial virus (RSV). This is the type that children may get more often. If a person who already has heart disease or lung disease, or someone who is pregnant, develops pneumonia after a flu, it can be very dangerous. 

Mycoplasma Pneumoniae (Walking Pneumonia)

– this type of pneumonia is caused by a bacterial strain. This usually affects younger people who are living, working, or going to school, and is often mild enough that people think they just have a cold. This is sometimes called "atypical pneumonia," but that doesn't mean it isn't common.  

Fungal Pneumonia

– it is possible to get this kind of pneumonia if you are exposed to certain fungi in the environment, like those that live in soil and cause "valley fever," or fungi that are found in bird droppings. 

Legionnaires Disease

–  legionella is a bacteria that can live in water or soil, and is sometimes present in plumbing, air conditioning systems, pools, or jacuzzis. People can sometimes breathe it in while gardening. If an at-risk individual breathes in this bacteria, they may develop a kind of pneumonia that also causes body aches. In some cases, people may go into septic shock or kidney failure.
People who have weakened immunity due to conditions like HIV/AIDS, or because they are going through chemotherapy for cancer, are at heightened risk for developing pneumonia, as are people who have trouble swallowing due to neurological conditions like stroke, Alzheimer's disease/dementia, Parkinson's disease, or ALS. 
Smoking or using other drugs can also increase the risk of aspiration pneumonia, which can occur if a person breathes something–such as saliva, vomit, or food particles–into their bronchial tubes instead of swallowing it.
People with pre-existing lung conditions like emphysema/COPD or Cystic Fibrosis (CF), or other chronic illnesses, like diabetes, are also at higher risk for getting a serious case of pneumonia.
Medical Pneumonia Treatment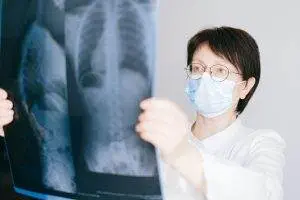 It is important to seek treatment if you believe you have pneumonia, because it can become very serious very quickly. First, doctors will do testing to determine what is causing the pneumonia. They will probably perform an x-ray to see where the lungs are inflamed. 
Bacterial forms of pneumonia are typically treated with antibiotics, usually some form of amoxicillin. Pneumonia antibiotics cannot help if you have viral pneumonia, although some doctors may recommend medicines like Tamiflu, to help with symptoms. 
Recovering from pneumonia takes time, no matter what kind of medication you take. It is normal to feel very tired, possibly for up to a month, or more. Rest, and drink lots of liquids, reduce your workload, and accept help whenever possible.
Acupuncture treatment and Chinese herb preparations can be very helpful for helping facilitate a more comfortable recovery from pneumonia.
Can Acupuncture Help Pneumonia?
According to TCM theory of disease, pneumonia is considered an invasion of the lungs by dampness and heat that leads to the production of phlegm. Wind and heat cause the fever and chills and sweating associated with the pneumonia.
TCM treatment for pneumonia can help on multiple levels: first, by addressing the infection in the lungs, second, by alleviating respiratory and gastrointestinal symptoms, and third, by helping to offset any negative side effects of conventional medical treatments.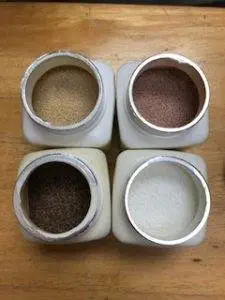 Chinese herbal formulations can help to clear heat and congestion from the lungs, reduce fever, and relieve coughing. One study observed two groups of pneumonia patients: both groups were given conventional antibiotics, but one group also received acupuncture herbs, which increased the total effectiveness rate by 10%.
Acupuncture was found to help patients who were hospitalized with severe pneumonia, reducing the amount of time they needed to be on ventilator machines and improving their symptoms.
Another study of children being treated in the hospital for pneumonia found that those who had acupuncture treatment had shorter hospital stays and needed less medication.
TCM works effectively as preventive medicine, so coming in for a regular "acupuncture tune-up" can help you avoid the seasonal colds and flus that can turn into pneumonia. It can also help immunocompromised people and those at higher risk of aspiration pneumonia due to neurological conditions avoid becoming ill.
Acupuncture Near Me for Pneumonia 
If you are experiencing fever, chest pain when coughing, extreme fatigue, sweating, and/or looking blue around the lips, do not hesitate to get medical attention. Pneumonia requires urgent care. Once diagnostics have determined whether you have bacterial pneumonia or some other type, then it can be beneficial for you to add integrative care in the form of acupuncture and herbs to your recovery program. TCM methods can help clear phlegm from your lungs and help you regain your strength.
*This article is for education from the perspective of Traditional Chinese Medicine only. The education provided by this article is not approved by FDA to diagnose, prevent, treat and cure human diseases. It should not stop you from consulting with your physician for your medical conditions. Traditional Chinese Medicine is based on Qi, which is an invisible force that usually cannot be observed by modern science. Because science focuses on testing ideas about the natural world with evidence obtained through observation, these aspects of acupuncture can't be studied by science. Therefore acupuncture and Chinese herbs are often not supported by double-blind, randomized trials, and they are considered alternative medicine therapies in the United States.