By Qineng Tan, L.Ac., Ph.D & Xiaomei Cai, L.Ac., Ph.D.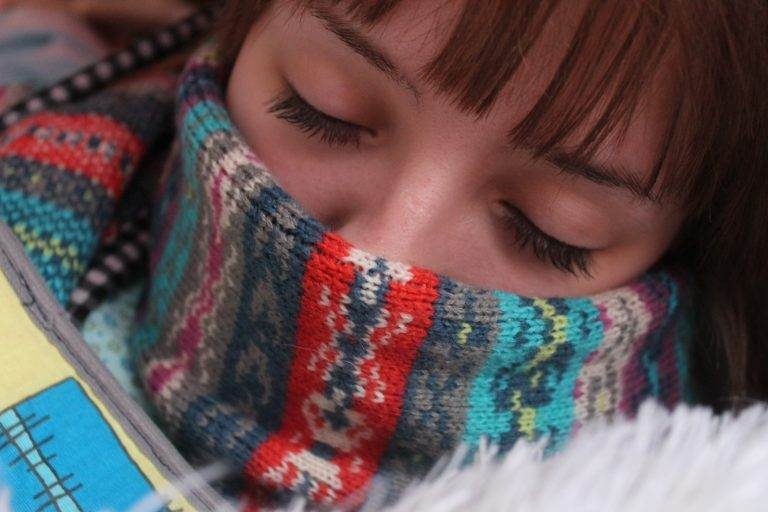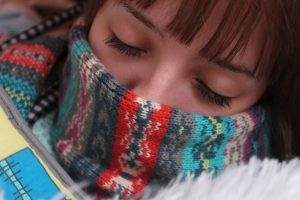 Sneezing, runny nose, nasal congestion, cough? How can you tell if it's a cold symptom, a flu, COVID-19, mononucleosis, croup, or maybe an allergy? All of these illnesses can cause fatigue and a stuffy nose. The common cold, however, does not cause a high fever, and the cough is usually mild, not a persistent cough. Acupuncture and TCM herbs offer a highly effective way to relieve common cold symptoms.
A cold is a kind of viral infection that affects your upper respiratory tract, centering mostly in the nose and throat. Different viruses can cause the common cold; rhinovirus is the most common kind of cold virus.
You can catch a cold virus when you are near someone else who sneezes or coughs, and you get droplets containing the virus into your own nose, mouth, or eyes, or you touch something they coughed or sneezed on, and then touch your own face.
Young children and people with weakened immune systems are more prone to catching colds, as are people who smoke. You're more likely to catch a cold if you spend a lot of time in crowded places, like schools, airports, public transportation, etc. More people get colds during the winter, because more people are packed together indoors, but cold-causing viruses are circulating all through the year.
You will start feeling cold symptoms within a few days of being exposed to the virus. Typically, without any medical intervention, a cold will last about a week or ten days. For some people, though, a cold can lead to other, more serious infections, like an ear infection, asthma and wheezing, sinusitis/sinus infection, bronchitis, or even pneumonia.
Cold symptoms aren't so much caused by the virus, but by the workings of the body's own immune system to expel the virus. Coughing and a runny nose are the body's way of getting the virus out of the respiratory system. While the common cold doesn't necessarily require any medical treatment, it is best to take steps to strengthen your immune system and clear the virus as soon as you can.
Chinese herbs and acupuncture treatment are an excellent way to shorten the duration and lessen the severity of a cold. Regular acupuncture treatment also functions as preventive medicine, so that you and your family don't catch cold nearly as often.
Top 10 Common Cold Symptoms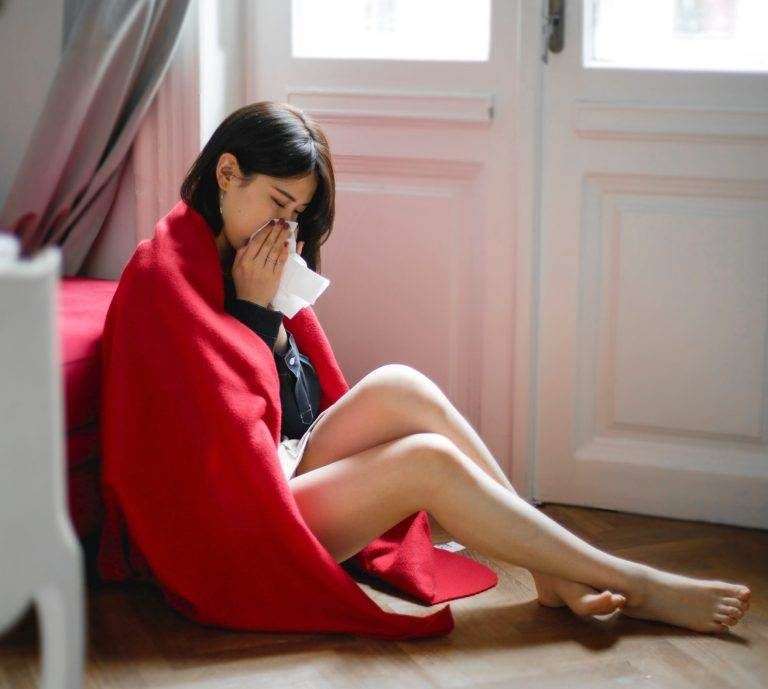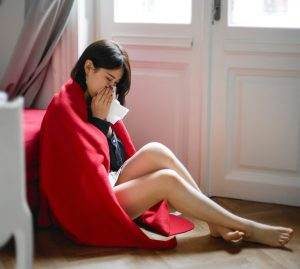 How can you tell if you have a cold or a flu? Usually, cold symptoms are more centered in the nose and throat, and are milder than flu symptoms. A flu is more likely to cause serious fatigue, chills and fever, and body aches than a cold is. 
The typical symptoms of common cold include:
Runny nose, stuffy nose, nasal congestion

Sneezing

Cough

Post-nasal drip

Watery eyes

Body aches

Low grade fever

Fatigue, feeling tired
Sometimes people differentiate between head cold symptoms and a chest cold. A head cold describes the way most rhinovirus colds manifest in the upper respiratory organs: with a stuffed up nose, sniffling, headaches, and a red, sore throat.
If the cold "moves" down into the chest, causing inflamed bronchial tubes, and mucus production in the lungs, this is called acute bronchitis. This feels more like chest congestion, with a more persistent cough. Once a cold turns into bronchitis, you are more likely to have a serious cough, with or without coughing up phlegm.
How Is the Common Cold Usually Treated?
The accepted wisdom is that there is no cure for a cold; you just have to do whatever you can to make yourself more comfortable while the illness runs its course. Antibiotics only help get rid of bacterial infections. They do not help when you have a viral infection.
While it is true that there is no medication you can take to get rid of a cold, there are many remedies, both traditional home remedies for cough, and popular over-the-counter medicines and health store supplements that claim to take care of your cold symptoms.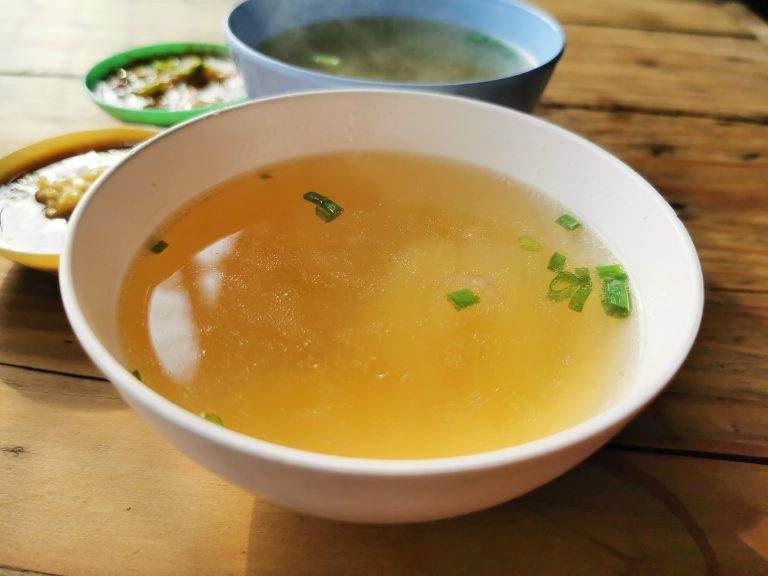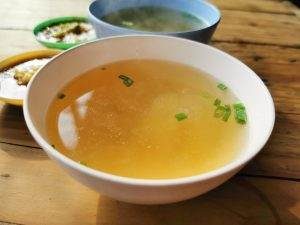 Many people swear by things like Vitamin C, Zinc lozenges, or echinacea preparations. Other people will tell you to drink hot honey water and eat chicken soup. All of these natural cold remedies may have some benefits. At least, they don't do any harm.
Other cold medicines may do more harm than good. Cough suppressants and nasal decongestants actually work against your body's natural defenses. Your body is producing mucus and the cough reflex in order to expel the virus and keep it out of your lungs. Repressing these natural immune responses can prolong your cold. 
Nasal decongestants like Sudafed can cause a fast heart rate and jittery feelings, especially in young children. Cough syrup with antitussive properties, or cough suppressant, can have negative side effects besides just making you drowsy or irritable. Some cough medicines can interact with other medications, making them inappropriate for people who have problems like high blood pressure, enlarged prostate (BPH), or glaucoma.
Trying to power on through your days with the help of OTC cold relief medications, caffeinated drinks, and sugary cough drops, without getting the rest you need, is not a good idea. Getting extra rest and drinking plenty of fluids are definitely tried and true ways to get over your cold.
Consider that acupuncture and herbal medicine developed over centuries of TCM tradition can help address cold symptoms without any side effects, and may help you recover more quickly than rest alone.
TCM for Colds: How to Get Rid of a Cold Fast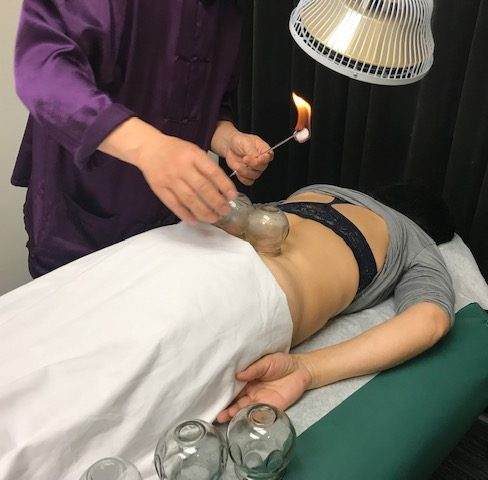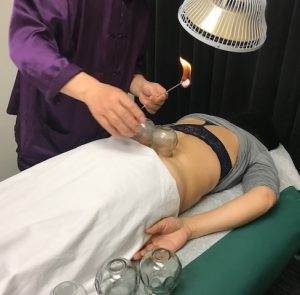 In TCM we consider some conditions to be external, meaning that they come from outside the body, in the form of pathogenic factors like heat, cold, wind, and dampness. Based on the environment, and the types of symptoms, we determine whether a cold follows a pattern of a cold-wind type, or a heat-wind type, or sometimes a hot-damp type as might occur during the summertime. An acupuncture practitioner will then base the treatment on the pattern of cold presented.
Acupuncture treatment influences the immune system's response, and since that is what is actually causing the symptoms of a cold, the use of acupuncture points for cold and sore throat can really have a positive effect on reducing cold symptoms.
Cupping is a TCM modality that may be used to help treat colds and other respiratory conditions. Cupping helps to relieve congestion and gets lymph and blood circulation moving.
When you come in with a cold, your TCM provider will tailor your acupuncture treatment and prepare an herb formula specific to your needs. That said, our patients who have been coming into Art of Wellness for many years know that there is a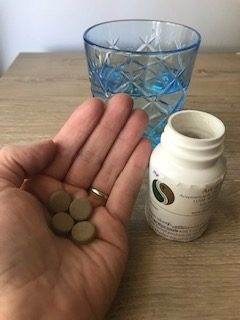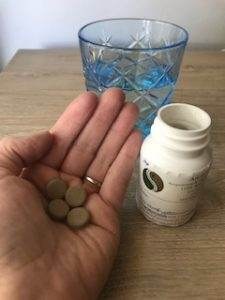 standard formula that is excellent for "knocking out" a cold if you can catch it at the very beginning. Right when you begin to feel that tickle in the back of your throat, that is the time to reach for your supply of Yin Chiao pills!
Ginger tea, made by simply slicing a bit of fresh ginger and steeping it in hot water, is also a great way to stop a cold in its tracks, before it gets worse.
Acupuncture Near Me for Common Cold in Santa Monica, West LA
Making time for regular acupuncture "tune-up" visits can help keep your body and mind balanced and your immune system in good working order. In the ancient TCM tradition, acupuncturists used to treat their patients for free when they caught a cold type illness, because it meant they hadn't done their job of boosting immunity well enough. Prevention is certainly the best medicine when it comes to colds and flus. When you do begin to feel the first signs of a cold, though, it isn't too late. Come in for a treatment, or call us at Art of Wellness to order some herbs to be shipped to you. We can help you get over your cold symptoms quickly.
*This article is for education from the perspective of Traditional Chinese Medicine only. The education provided by this article is not approved by FDA to diagnose, prevent, treat and cure human diseases. It should not stop you from consulting with your physician for your medical conditions. Traditional Chinese Medicine is based on Qi, which is an invisible force that usually cannot be observed by modern science. Because science focuses on testing ideas about the natural world with evidence obtained through observation, these aspects of acupuncture can't be studied by science. Therefore acupuncture and Chinese herbs are often not supported by double-blind, randomized trials, and they are considered alternative medicine therapies in the United States.