By Qineng Tan, L.Ac., Ph.D. & Xiaomei Cai, L.Ac., Ph.D.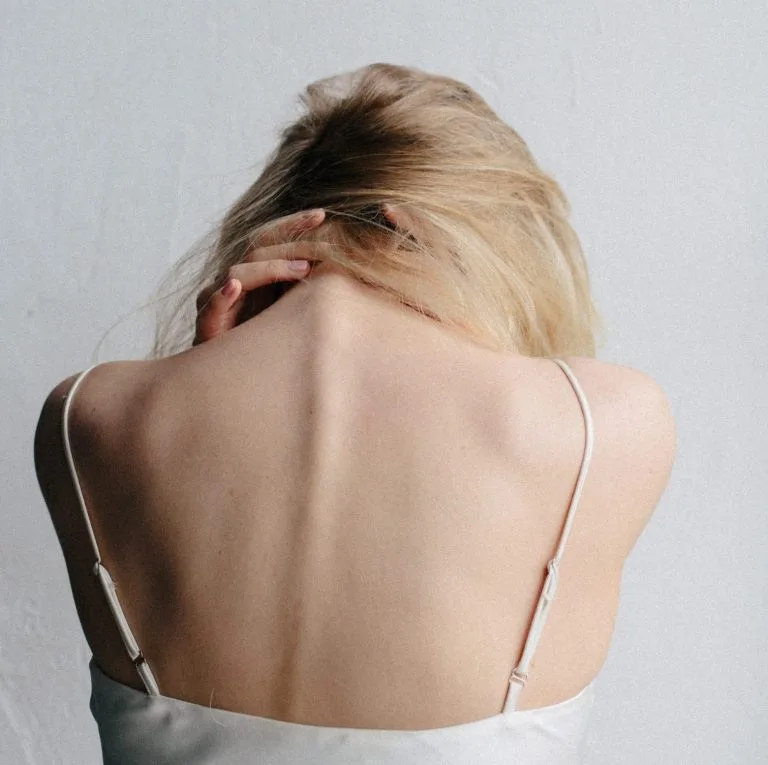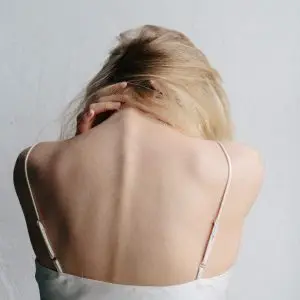 Throbbing headache and back of neck pain? Occipital Neuralgia, sometimes called "occipital migraine," is a kind of chronic headache that causes stabbing neck pain and headache back of head. Acupuncture and TCM offer a way to help ease occipital nerve pain.
Occipital headache causes are usually due to compression of the occipital nerves, which start at the top of the spine where the neck is joined to the head and then run up into the scalp. A pinched nerve in the neck area, or tight muscles in the neck can lead to occipital pain, like a headache at base of skull.
Neck pain and back of head pain from an occipital migraine is often described as feeling like an electric shock or "zap," or a sharp, shooting pain in the back of the head. The sensation may come on suddenly and last for only a few seconds, or it can go on throbbing for hours.
Occipital neuralgia pain is similar to that of Trigeminal Neuralgia, in which the intense nerve pain is on one side of the face, rather than the back part of the head. Occipital pain can also resemble that of chronic migraines and other kinds of headache disorders.
Occipital Neuralgia pain areas can include:
Pain starts in the back of the neck and spreads upwards

Back of head pain, behind the ears

Pain on one side of the head

Scalp pain, scalp tender to the touch

Pain in the forehead

Pain behind the eyes

Eyes are sensitive to light
Occipital neuralgia pain can make the scalp feel so sensitive that even shampooing your hair or resting your head on a pillow feels unbearable. It can also feel like a burning sensation, or simply an aching neck.
Acupuncture can be used as an alternative or adjunct therapy for occipital neuralgia to bring headache and neck pain relief.
What Causes Occipital Neuralgia?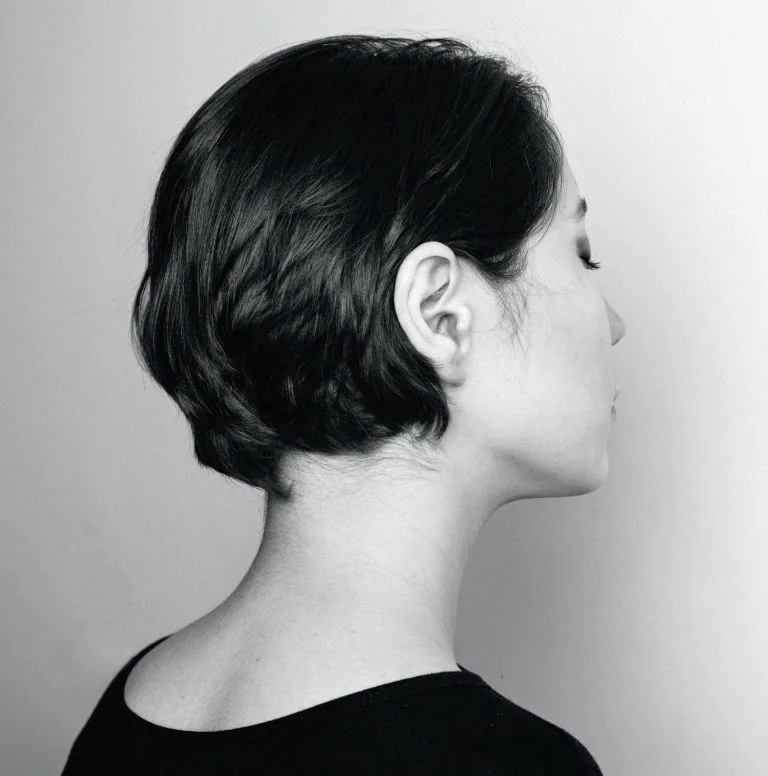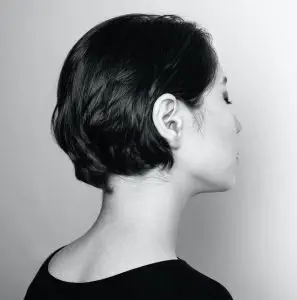 Occipital neuralgia occurs when the occipital nerves in the back of the head and neck are irritated or injured. There can be many different kinds of factors that trigger occipital neuralgia, such as:
Pinched nerve in the neck

Tension or tight muscles in the neck cause compression

Compression of the nerves due to osteoarthritis in the spine, degenerative disc disease, or a herniated disk

Trauma to the back of the head or the neck

Tumor or other type of lesion in neck compresses the nerves

Vasculitis (inflamed blood vessels)
Holding the head and neck in a position where it is tilted forward and down, such as when reading or looking at a screen for long periods of time can be associated with occipital neuralgia. 
Often, though, the exact cause of the occipital pain in the head and neck is not discovered.
There is no clear test used to diagnose occipital neuralgia. The symptoms of occipital nerve pain are similar to other types of migraine headaches, and it is possible for a person to have both migraines and occipital neuralgia, so it can be challenging for doctors to determine exactly what is going on.
Conventional Treatment for Occipital Neuralgia
One of the ways that medical doctors will try to confirm a diagnosis of Occipital Neuralgia is by injecting a combination of anesthetic and steroids (occipital nerve block) into the affected area, to see if it deadens the pain. Botox injections can also be used to produce this effect. The hope is that the irritated nerve will heal over time.
If neck tension seems to be the issue, muscle relaxants may be prescribed. Massage therapy can sometimes be helpful in these cases.
Occipital neuralgia treatment at home might involve alternating ice packs and heating pads to help relieve pain at the back of the neck. Exercises like yoga may also be helpful for relieving neck tension that triggers the nerve pain.
If none of these treatments provides relief, then surgical options might include occipital nerve stimulation, in which electrodes are implanted to block nerve signals.
Acupuncture and TCM can be sought as an alternative way to deal with occipital neuralgia, and many other types of nerve pain.
Can Acupuncture Help Occipital Neuralgia?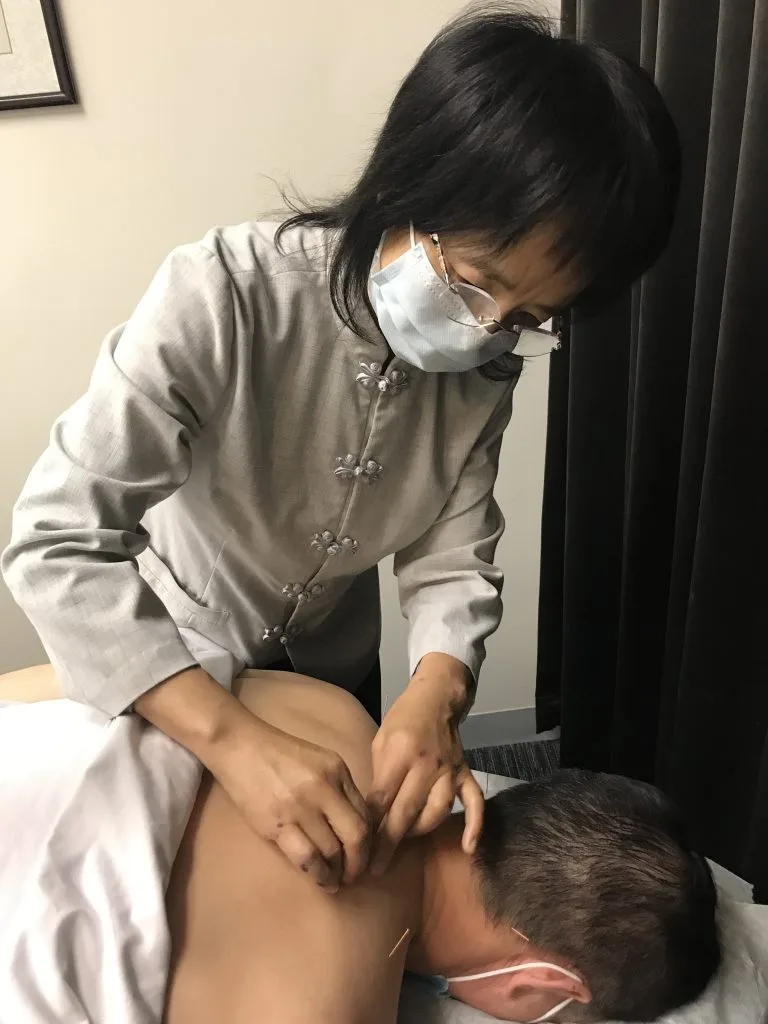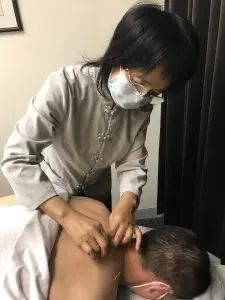 From the TCM point of view, pain conditions that come and go, or cause periodic pain and stiffness, fall under a category called "Bi Syndromes." "Bi" means "obstruction." Bi Syndromes occur when an external pathogenic force like wind, cold, or dampness gets into an area of the body and causes blockages in the flow of Qi. Then, the muscles and joints may be tender, swollen, or sore, or numb and tingling, or have limited range of movement. Most types of arthritis, for example, are Bi Syndromes, according to TCM theory.
Occipital neuralgia is considered a Bi Syndrome, where tightness in the neck and base of the skull causes the stabbing nerve pain to flare up. The goals of acupuncture treatment for occipital headache and neck pain are to reduce tension, stress, and inflammation, to clear blockages in the Qi at the organ system level, and to provide natural analgesic relief from nerve pain signals.
One case study of a patient who had been suffering from occipital headaches for over a year found that her pain resolved after five acupuncture treatments.

A systematic review of evidence related to TCM treatment for occipital neuralgia in China showed that acupuncture was effective both as an alternative to medical treatment, and as an adjunct to medicine.
Acupuncture Near Me for Occipital Neuralgia in Los Angeles
At Art of Wellness Acupuncture near Santa Monica and Brentwood, we have over 30 years of experience helping people heal from all kinds of neurological conditions and nerve pain. Conditions related to nerve compression, such as Carpal Tunnel syndrome (wrist pain), Morton's Neuroma (ball of foot pain), Sciatica (hip pain), Plantar Fasciitis (heel pain), and even dental pain (toothaches) can all be relieved with acupuncture and TCM treatment. If you or someone you know is suffering with recurring headaches, migraines, or neck pain, please consider giving acupuncture a try.
*This article is for education from the perspective of Traditional Chinese Medicine only. The education provided by this article is not approved by FDA to diagnose, prevent, treat and cure human diseases. It should not stop you from consulting with your physician for your medical conditions. Traditional Chinese Medicine is based on Qi, which is an invisible force that usually cannot be observed by modern science. Because science focuses on testing ideas about the natural world with evidence obtained through observation, these aspects of acupuncture can't be studied by science. Therefore acupuncture and Chinese herbs are often not supported by double-blind, randomized trials, and they are considered alternative medicine therapies in the United States.