By Qineng Tan, L.Ac., Ph.D. & Xiaomei Cai, L.Ac., Ph.D.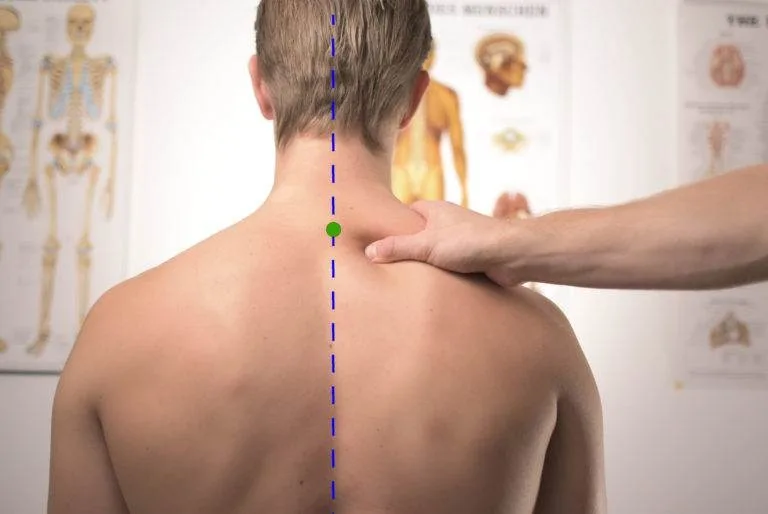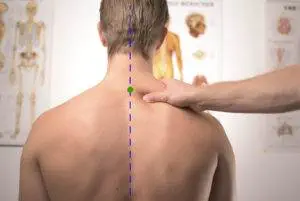 Why do I have a sharp shooting pain down one leg? What should I do if my neck is stiff and hurts to turn? What can I do to help a spasm in lower back? Any of these kinds of pain may be caused by a herniated disc, which presses on the spinal nerves. Acupuncture can be an effective treatment for relieving the symptoms of a slipped disc, while also speeding the healing process–all without negative side effects.
A herniated disc, often referred to as a "slipped disc," or a bulging disc, occurs when damage to one of the shock-absorbing discs of cartilage that sit between the vertebrae creates pressure on the nerves and muscles of the spine. Also called a prolapsed disc, this condition creates inflammation and swelling in a localized area of the spine and can cause severe pain in the neck, lower back pain, sciatica pain, and tingling that radiates down the leg.
The vertebral column, or backbone, is made up of vertebrae (individual bones) and intervertebral discs. These discs provide cushioning in between the bones and act as ligaments that hold the bones together. The discs create a shock absorption system that protects the spinal column, and are made up of tough, fibrous outer layers of cartilage, with a gel-like substance on the inside. If there is damage to the tissues of the outer layer, the soft, gel interior can be pushed outwards and breach the outer wall. This can create pressure against the nerves of the spinal column, resulting in symptoms of nerve entrapment: pain, numbness, and/or loss of ability.
A herniated disc, also referred to as a "ruptured disc," most often occurs in the lumbar spine. A lumbar herniated disc may cause severe lower back pain if it is pressing on a nerve. Pressure on the sciatic nerve area can also cause shooting pain, burning pain, numbness, and/or tingling in one or both legs–a condition commonly referred to as sciatica, also known as lumbar radiculopathy. The sciatic nerve is actually a large bundle of smaller nerves that connects the base of the spine to the top of the leg, travelling through the buttock area. There is a sciatic nerve bundle on each side. About 90% of cases of sciatica are related to herniated discs.
Cervical disc herniation refers to a prolapsed disc between one of the seven vertebrae of the cervical spine, or neck area. Compression of the nerves due to a herniated disc in the C2 area can cause headache, or pain in the eye or ear. Herniation of a disc further down the cervical spine happens most commonly in the C5, C6, or C7 area, which can lead to neck pain and/or shoulder pain.
Most of the time, sciatic pain or neck pain due to nerve compression in the spine goes away gradually on its own, but it can cause a lot of suffering over the course of several weeks or months before resolving itself. Medical treatment for herniated disc pain typically involves the recommendation of rest and immobilisation and the use of anti-inflammatory medications, muscle relaxers, and pain relievers. However, lack of movement does not really help improve the root cause of the pain, and the use of pain medications or steroids is often accompanied by unwanted side effects. Acupuncture treatment can significantly reduce acute pain related to sciatica, neck pain, shoulder pain, and low back pain due to slipped discs, often providing immediate, short-term relief of severe pain, while helping, long-term, to reduce inflammation and help heal nerve damage.
Signs of Herniated Disc
When a disc herniates, pain can be sharp and intense. Depending on which disc is affected, there may be neck pain, low back pain, or sciatic pain in the leg, foot, or buttock area. Pain or numbness are caused by the inflammation of the nerve area that is being compressed by the extrusion of the center of the disc.
A cervical herniated disc (in the neck) may cause burning pain in the side of the neck or sharp pain in the back of the neck. Or there may be a more subtle sensation where the neck is tender to the touch. The pain is usually worse when performing vigorous activities or when twisting or turning the head at a certain angle. The overall movement of the neck and head may feel limited and stiff.

Pain may radiate down the arm and cause an "electric shock-like" sensation in the hand and fingers.

Weakness in the muscular movement of the shoulder, arm, hand, thumb and fingers may result from the pinching of the nerves of the cervical spine.

A lumbar herniated disc (in the lower back) is more likely to cause pain down the leg than in the back. Usually the pain is just on one side of the body. This radiating pain caused by compression of the sciatic nerve can be sharp, burning, and very intense. 

Herniation of a lumbar disc can also cause pain in the low back or buttock. This pain may be of the "throbbing" type, or feel like a spasm. It may be helped by applying cold or heat to the area. The pain typically is worse after sitting or hunching over for a while, or when bending over from the waist.

The sensation in the buttock, hip, leg and foot may be more like tingling or numbness than searing pain.

"Foot drop" is when the nerve compression makes it difficult to fully pick up the foot when walking, so that the toes drag on the floor.
The kind of pain caused by a herniated disc can come on quite suddenly and strongly. Fortunately, the pain caused by most herniations of spinal discs resolves in a matter of time without surgery.
What Causes Herniated Disc?
Slipped discs, or bulging disks, happen most often to people between the ages of 30 and 50. The ruptured disk may happen due to one sudden movement, like lifting something heavy, twisting an awkward way, or even a strong sneeze. But prior to such an event, there was probably some weakness already developing in the outer walls of the disc. 
Degeneration of the discs can occur over time due to aging. A chronic herniation can develop slowly over years and cause mild symptoms. An acute herniation might happen as the result of some trauma, like an accident, which could create more serious damage to the outer layers of the disc (the annulus fibrosus), allowing the jelly-like material inside (the nucleus pulposus) to extrude, or squeeze out of containment.
Surgery for herniated disc is only recommended in rare cases (10-20%), sometimes if the prolapsed disc is affecting the nerves in such a way that bladder or bowel function is negatively impacted. Surgery may also be considered if pain is severe and continues for a long time without getting better. Herniated disc surgery attempts to relieve the nerve compression by removing some of the disc tissue. In cases where there is more extensive degeneration of the spine, a spinal fusion procedure may involve "fusing" the vertebrae together with screws while removing the original disc tissue and replacing it with an implant. These types of surgeries for herniated disc may help alleviate pain, but there can still be a long recovery period, and the pain is not guaranteed to go away.
Can Acupuncture Help a Herniated Disc?
Traditional Chinese Medicine (TCM) has been developed over the course of thousands of years to deal with all types of pain conditions. In the TCM view, herniated disc pain is caused by:
Injury to the spine

Invasion of cold, wind, or damp

Liver and/or kidney deficiency
In addition to acupuncture treatment, which involves the insertion of very fine needles into specific points along the meridians of the body, we also use treatments such as moxibustion and infrared heat lamps to bring warm energy to parts of the body. TCM treatment for herniated disc will often focus on strengthening the Qi (life force energy) and blood flow to the kidneys, and clearing dampness and bringing warmth to the whole lower back area.
One clinical trial conducted in a hospital demonstrated that acupuncture treatment combined with the application of moxa warm needle therapy with infrared heat and gentle exercise resulted in reporting of 95% improvement in pain related to lumbar herniated disc.
A recent systematic review of acupuncture treatment for disc herniation concluded that acupuncture provided better results than pain medications or lumbar traction.
A study that focused on long-term outcomes for patients with lumbar disc herniation showed that ten years after receiving electric acupuncture treatment for their pain they reported positive long-term results, acupuncture having helped to resolve their sciatica symptoms.
Top 5 Tips for How to Heal a Herniated Disc Naturally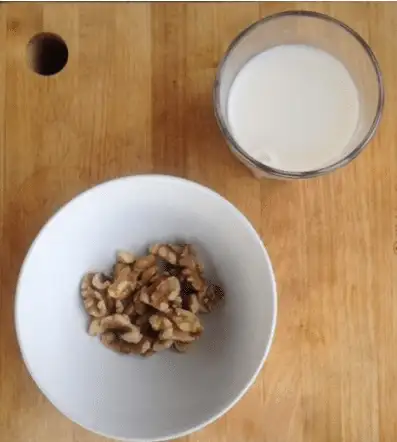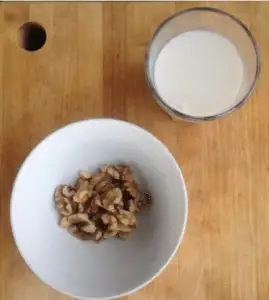 Most pain due to herniated disc will resolve itself in about six weeks without medical treatment. In the meantime, there are some things you can do to help reduce pain and restore freedom of movement.
Seek out treatment from a qualified acupuncturist. A combination of acupuncture, herbal supplementation, tuina massage, moxibustion, and infrared heat therapy will go a long way towards relieving pain and encouraging healing.

Heat and Cold Therapy. Try using a heating pad or hot water bottle to apply gentle heat to the lower back or neck. Alternate with icing the affected area. This helps bring more blood flow to the area, reduces inflammation, and soothes stiffness.

Stay active. It can be tempting to stay in bed when lower back pain and sciatica are causing intense pain or tingling sensations. But immobilisation does not really do anything to help heal nerve pain, and it is actually more beneficial to keep the muscles of the back body strong. Engaging regularly in low-impact activities like walking, biking, or swimming will help keep endorphins flowing and your mood positive better than bed rest will.

Check your sleeping position. Staying in bed can also hurt when you have a slipped disc. Use a pillow to bolster your knees to help relieve tension in the lower back and keep the spine in proper alignment. Use a firm orthopedic pillow to keep the neck aligned.

Nutrition for nerve health. Certain nutrients can be especially beneficial for building and maintaining nerve tissues. Emphasize B-6 and B-12 vitamins, Vitamin E and Omega-3 and Omega-6 fatty acids in your diet and with high quality supplements. Nuts, fish, and good plant-based oils should be consumed regularly. 
Regular exercise, plenty of sleep, and good nutrition, as always, will go a long way towards helping ensure that a pain condition resolves itself fully and does not return. 
Acupuncture Near Me for Herniated Disc
At Art of Wellness, Dr. Tan and Dr. Cai have over 30 years of experience helping patients with acute and chronic pain due to neurological conditions. Pain due to a herniated disc can be effectively reduced by regular acupuncture treatment, while Chinese herbs and therapeutic massage can help bring healing to the nerves and spine, and help prevent future problems with herniated disc and sciatica.
*This article is for education from the perspective of Traditional Chinese Medicine only. The education provided by this article is not approved by FDA to diagnose, prevent, treat and cure human diseases. It should not stop you from consulting with your physician for your medical conditions. Traditional Chinese Medicine is based on Qi, which is an invisible force that usually cannot be observed by modern science. Because science focuses on testing ideas about the natural world with evidence obtained through observation, these aspects of acupuncture can't be studied by science. Therefore acupuncture and Chinese herbs are often not supported by double-blind, randomized trials, and they are considered alternative medicine therapies in the United States.