By Qineng Tan, L.Ac., Ph.D. & Xiaomei Cai, L.Ac., Ph.D.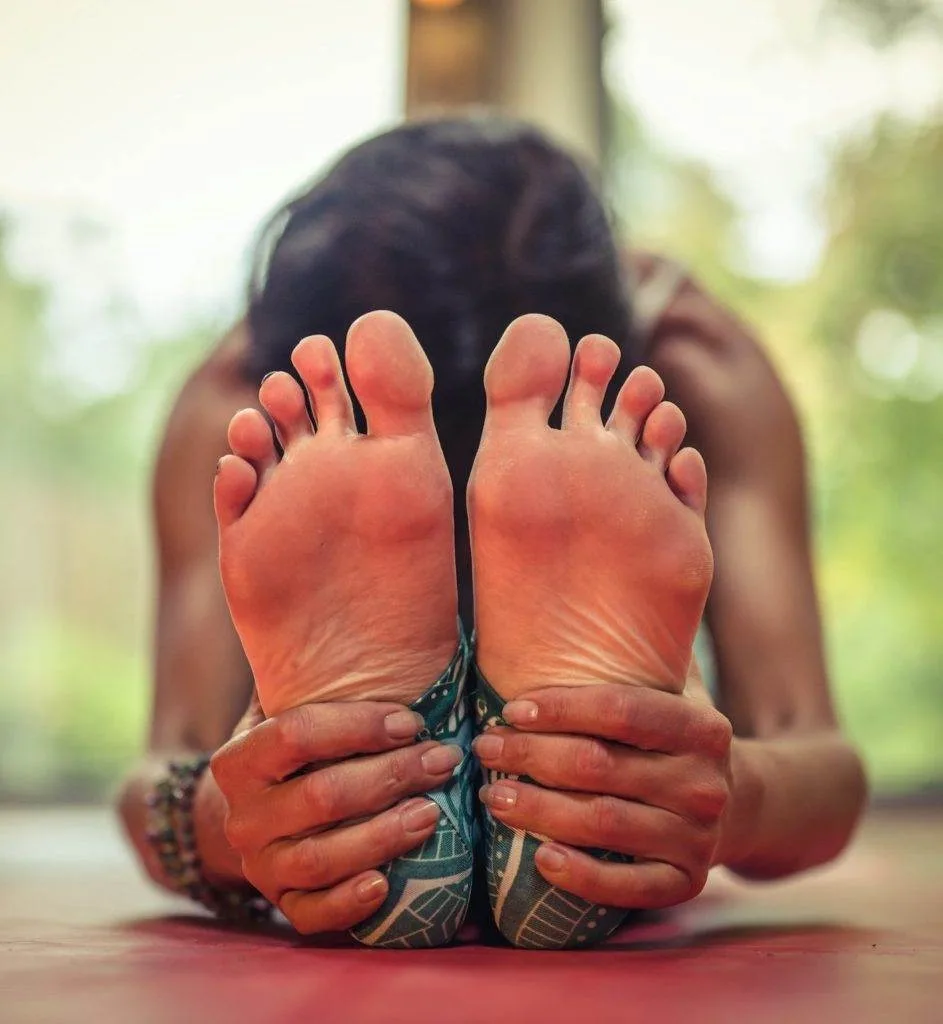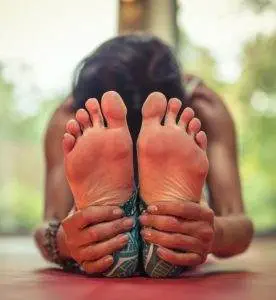 Chronic bottom of heel pain, especially when you first get up in the morning? Heel pain can be due to plantar fasciitis, an inflammatory condition of the large ligament that supports the arch of the foot. Bone spurs in the foot (heel spur), Achilles tendonitis, and bursitis can also cause pain in back of heel. Acupuncture and TCM treatment offer relief from chronic plantar fasciitis pain and achilles tendon pain.
Experiencing stiffness or pain in the heel when you first get up in the morning is a sign of plantar fasciitis. The sensation may improve as you warm up and move more throughout the day, or you may have severe, burning pain whenever you put your weight on the back part of your foot. The plantar fascia provides shock absorption and cushioning for the heel; when it is overused, small microtraumas and tears lead to inflammation. People with very flat feet, fallen arches, or very high arches are more prone to plantar fasciitis, as are older people.
Stiffness above the heel is an indication of Achilles tendinitis. When the tendon that connects the muscles of the calf to the heel bone is strained, it can cause an aching sensation or pain in the back of the heel. This usually happens because of sudden overuse, like when a person decides to go for a long run when they haven't exercised in a while, or when their sneakers are worn out. Achilles tendinitis is more common in men, and in people with high blood pressure.
Stiffness in the ankle and side of foot pain can be due to posterior tibial tendonitis, which can develop when the heel bone shifts in such a way as to put extra stress on the outside of the ankle.
Heel spurs–extra bone tissue on the bottom or back of the heel–develop due to over-stress of the foot. In most cases, the bone spurs on the foot don't cause pain in and of themselves, but they often coincide with either plantar fasciitis or Achilles tendonitis, and the conditions aggravate each other.
TCM modalities of acupuncture, electro-acupuncture, moxibustion, and herbal formulae have been shown to help relieve heel pain and inflammation due to all types of conditions, including plantar fasciitis and Achilles tendinopathy.
Top 5 Heel Pain Causes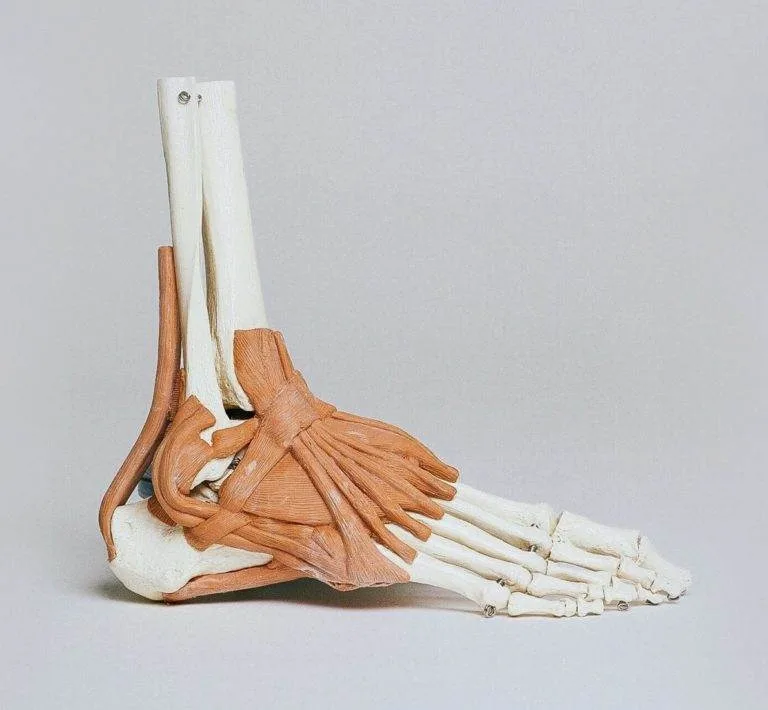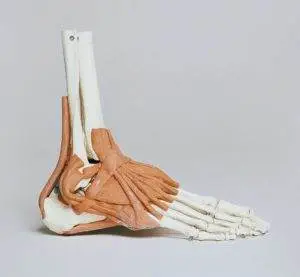 Pain in the heel and other types of bottom of foot pain can be due to one of or a combination of several different types of conditions: 
Plantar fasciitis – about 2 million people are diagnosed in the U.S. each year with plantar fasciitis, which occurs when the connective tissues that support the bottom of the foot become inflamed, usually from repetitive use or being overloaded. Some athletes are prone to this type of inflammation due to constant stress on the foot. Health conditions like obesity and diabetes also make people more susceptible to plantar fasciitis heel pain. While this type of heel pain walking is generally attributed to inflammation, it is also due to the natural degeneration of collagen that occurs with age, making the connective tissues weaker and more brittle. 

Heel spur – (bone spurs foot) refers to the extra growth of bone tissue on the bottom of the calcaneus (bone spur heel). Heel spurs often grow as the body's reaction to plantar fasciitis; the two conditions can exist together or separately. Sometimes people with heel spurs aren't aware of them, but bone spurs foot can cause sharp bottom of foot pain. Heel spurs often develop because of the stress of running or jogging, or wearing improper footwear. Posterior calcaneal exostosis, colloquially known as "pump bump", is when there is abnormal growth of bone tissue on the back of the heel, usually due to wearing a certain style of shoe (pumps or high heels).

Bursitis – Bursa are small sacs of fluid that help to provide cushioning in various joints of the body. Calcaneal bursitis occurs when the bursae that sit between the Achilles tendon and the heel bone become inflamed. Heel bursitis is usually caused by too much impact on the ankle joint and heel while running or by wearing shoes that create a lot of pressure on the back of the heel.

Achilles tendonitis – (also spelled achilles tendinitis) When the tendon that runs from the heel up the back of the lower leg becomes inflamed, often due to a lot of jumping movements, it can create pain and stiffness in the back of the heel. This overuse injury is very common in middle aged adults who engage in sports like tennis or basketball only sporadically, and may not warm up adequately before running and jumping.

Gout – an arthritic condition in which a buildup of uric acid crystals causes swelling and pain in the joints of the foot.
Pain in the heel can also be caused by a pinched nerve, or compression of the plantar nerve, or by bruising on the heel. Peroneal tendonitis, when the tendon that runs along the side of the ankle and then under the foot becomes inflamed and swollen, can also cause pain in the back of the heel. Sciatic nerve pain can also cause radiating pain that shoots down the leg and causes pain in the foot.
What Is the Treatment for Plantar Fasciitis?
Conventional clinical medicine considers plantar fasciitis to be a self-limiting condition, which means that it will eventually improve on its own, with rest and modifications of movement. Doctors will usually recommend that people cease weight-bearing activities as much as possible. This can be extremely frustrating for patients, though, as it often means being advised to rest the foot for six to eighteen months. Physical therapy for plantar fasciitis that focuses on stretching and strengthening the plantar ligament may be recommended. Special orthotics, arch supports, or heel cups that provide cushioning can be helpful. Night splints are sometimes used to keep the foot and ankle in a position that keeps the ligament on the bottom of the foot stretched long, rather than shortened, while sleeping. 
For heel pain relief, doctors may administer steroid injections and other anti-inflammatory medications. Steroid injections do carry some risks; about one out of ten patients treated this way for plantar fasciitis pain experience a rupture of the plantar tissues, which can lead to an even more severely chronic condition. Of course, the problem with taking NSAIDS on a regular basis is that they can cause problems with the stomach lining and gastro-intestinal bleeding. If rest and other methods do not improve the situation after many months, then surgical release of the plantar fascia may be considered.
Achilles tendonitis treatment is usually similarly conservative, involving rest and pain relievers. Unfortunately, recovery from the heel pain caused by plantar fasciitis or Achilles tendinitis is often a long, tedious process of abstaining from physical activity. For many people, whether they have jobs that require them to be on their feet or simply enjoy engaging in sports, it may feel impossible to stick to the standard treatment program. Acupuncture treatment offers a way to help relieve pain and inflammation and speed the healing of plantar fasciitis.
Acupuncture for Heel Pain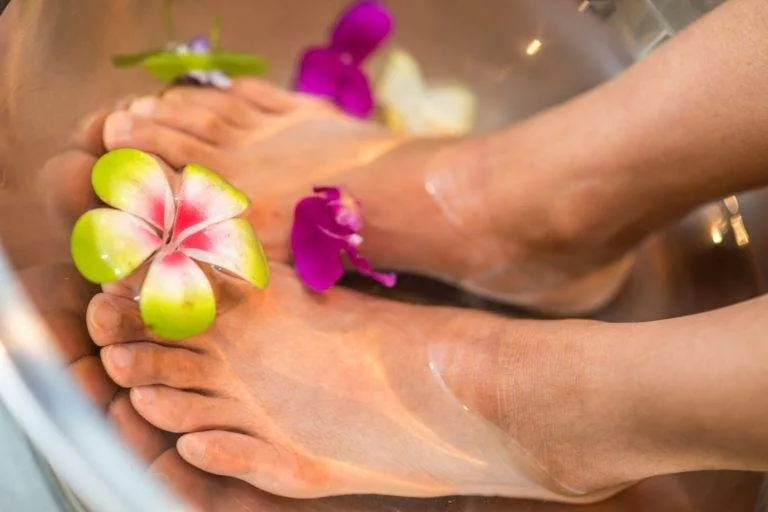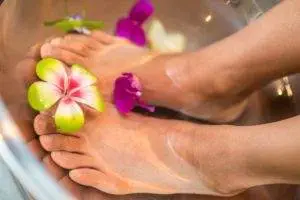 TCM takes a holistic view of pain conditions such as heel pain. While undoubtedly heel pain is caused largely by inflammation in the soft tissues of the foot and calf, there are often other underlying factors that cause these kinds of injuries to happen to people in middle age. In TCM philosophy the kidneys are believed to provide support and nourishment to the bones; this concept is called "kidney governing bone." Heel pain and heel spurs occur due to deficiencies or excesses of the kidney Qi. Soft tissues such as the plantar ligament and the Achilles tendon are governed by the liver. Thus, acupuncture treatment for heel pain, heel spurs, plantar fasciitis, and Achilles tendinitis will often involve using acupoints to strengthen and tonify the Kidney Qi and Liver Qi. 
Acupuncture is known to be effective for helping to relieve pain due to inflammatory conditions of all kinds, and also for helping to increase the production of collagen, which helps to keep the connective tissues of the foot and calf strong and supple. Acupuncture helps the healing of ligaments and tendons by improving reducing inflammation, improving blood flow and cell repair. The ancient textbook of Chinese medicine, The Yellow Emperor's Classic of Internal Medicine, even describes a specific acupuncture technique used to promote healing in the Achilles tendon.
Herbs can be used both internally and externally to help heel pain. An herbal formula that is steeped in warm water and used as a daily foot soak can be especially helpful for relieving swelling in the heel and pain in the bottom of the foot.
One research study compared patients treated with corticosteroid injections for plantar fasciitis versus patients treated with acupuncture. Six months later, the patients who had steroid shots reported a 76% effective rate, while the patients who'd had acupuncture reported a 97% effective rate.
A hospital study compared two groups of patients – some treated with integrated protocol of acupuncture and warm herbal foot baths, and the others treated with the herbal foot baths only. The effective rate for the foot-soaking only was 69%, and the effective rate jumped up another 22% for the patients who also had acupuncture.
A systematic review of four studies involving acupuncture for patients with plantar fasciitis heel pain showed a significant reduction in pain after 4-8 weeks of treatment.
Top 5 Tips for Heel Pain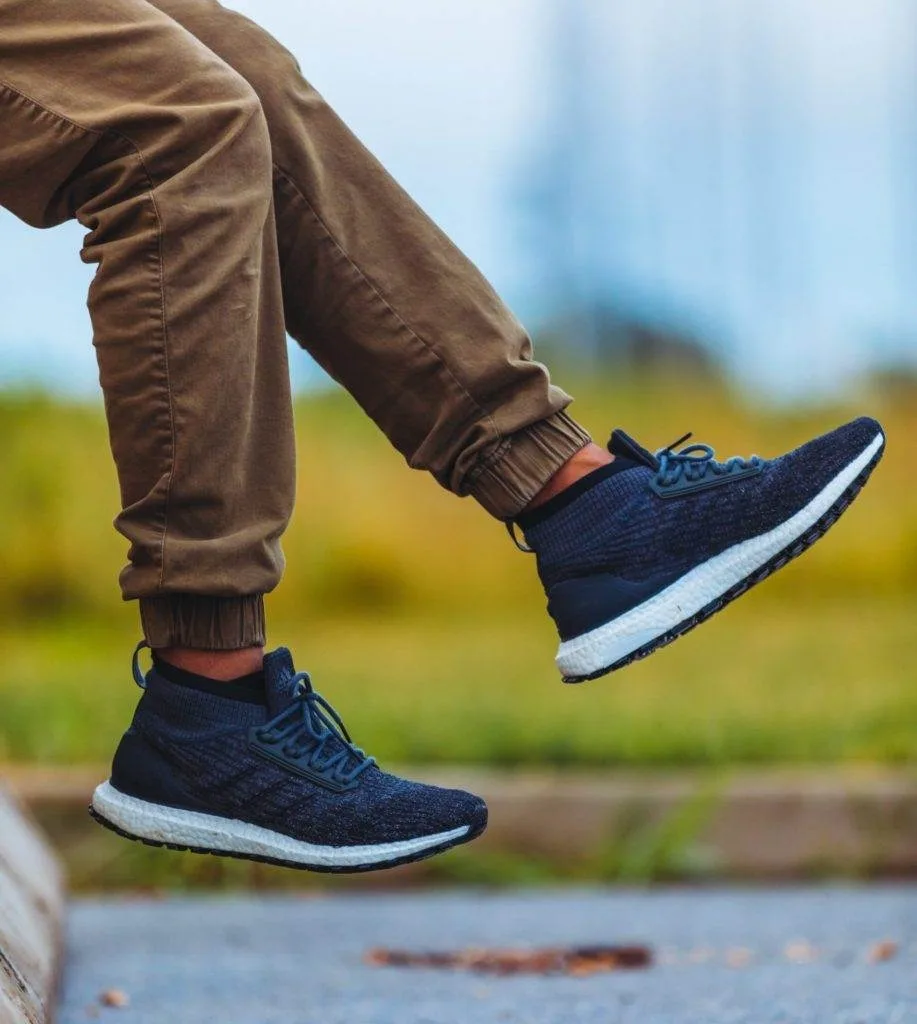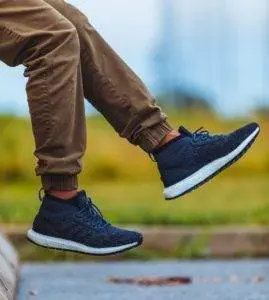 Prevention of heel pain involves mindfulness around your preparations for physical activity. The right gear and the regular practice of plantar fasciitis exercises can help prevent injury to the tendons of the foot.
Wear good-fitting, properly supportive shoes – whenever you walk, run, or work out. Replace them regularly, even if you haven't worn them much, because cushioning materials can break down over time, even when the shoes are just sitting in your closet. 

Warm up – taking the extra time to warm up before and cool down after running and jumping is always important, for all of the muscles of the body, but especially for the feet and lower legs. Be sure to adequately warm up the calf muscles, and stretch them before and after your primary workout.

Vary your workout – cross-training, which means alternating different types of activities, not only helps to improve your overall cardiovascular and muscular fitness, but it also prevents repetitive use injuries that can occur when you run every day. Focus on resting the feet some days, by riding your bike or swimming instead of running or doing high-intensity aerobics.

Soak your feet – before bed, soak heels in warm water to help improve circulation.

Manage your weight – Heel pain is usually related to how much pressure the foot has to withstand on a daily basis. Maintaining a lower body weight will help take the pressure off the heels. Losing weight while being asked to stay off your feet can be especially difficult, so talk with your TCM provider about a healthy food plan for weight loss.
Once your heel pain has improved, you will need to take these steps to prevent heel pain from returning in the future.
Acupuncture Near Me for Heel Pain
The typical treatment for heel pain can last for several months, with unpredictable results. If you have been suffering from plantar fasciitis or Achilles tendonitis, and want to heal from heel pain more quickly, it is worth it to give acupuncture a try. At Art of Wellness, we have over 30 years of experience helping patients get relief from pain conditions of all kinds. Get back on your feet again with acupuncture for heel pain! 
*This article is for education from the perspective of Traditional Chinese Medicine only. The education provided by this article is not approved by FDA to diagnose, prevent, treat and cure human diseases. It should not stop you from consulting with your physician for your medical conditions. Traditional Chinese Medicine is based on Qi, which is an invisible force that usually cannot be observed by modern science. Because science focuses on testing ideas about the natural world with evidence obtained through observation, these aspects of acupuncture can't be studied by science. Therefore acupuncture and Chinese herbs are often not supported by double-blind, randomized trials, and they are considered alternative medicine therapies in the United States.