By Qineng Tan, L.Ac., Ph.D. & Xiaomei Cai, L.Ac., Ph.D.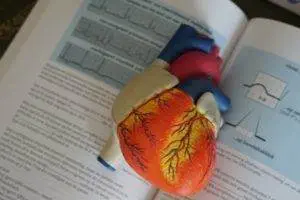 What is high blood pressure? Blood pressure (BP) is the force with which blood, pumped by the heart, pushes against the inner walls of the arteries and veins. When this force is consistently high, it puts a strain on the delicate tissues of the blood vessels and makes your heart work harder. This is also called hypertension. Most people take medications to control high blood pressure. In this article we'll discuss how to manage high blood pressure with TCM and acupuncture.
High blood pressure is very common in older adults; about half of people over the age of 60 have high blood pressure. It is very important to have your doctor regularly monitor your blood pressure, because high blood pressure, if left untreated, can lead to heart disease, arrhythmia, heart attack, stroke, kidney disease, and many other serious, life-threatening conditions. 
Your blood pressure reading is made up of two parts: systolic, which measures the force of blood being pumped away from the heart, and diastolic, the force of blood moving in between heart beats, when blood is flowing back into the heart. A normal blood pressure reading is usually considered 120/80 (systolic over diastolic). A consistent reading of BP over 130 would indicate hypertension stage 1, while a BP over 140 would be classified as hypertension stage 2. A BP over 180 signals a hypertensive crisis, and should be treated as an emergency, as it could lead to a stroke or other serious organ failure.
People with high blood pressure are advised to make lifestyle changes, including following a healthier diet, getting more exercise, and quitting smoking. Even a modest weight loss of ten pounds or so can make a big difference to reduce high blood pressure. Most people end up taking antihypertensive medications to lower blood pressure, often for the rest of their lives. Integrative care for high blood pressure that includes acupuncture treatment and herbal supplements according to TCM principles can provide natural remedies for high blood pressure, restoring the health of the circulatory system so that it might not be necessary to take drugs indefinitely.
Signs of High Blood Pressure
In many cases, there are no clear signs that a person has high blood pressure. Most people do not realize they have high blood pressure until it is measured by a medical professional. While people may think that a flushed, red face, or bouts of dizziness are symptoms of high blood pressure, these sorts of signals are not necessarily directly caused by high blood pressure. A flushed face caused by dilated blood vessels can happen for many reasons, usually because of a temporary rise in blood pressure due to heat, or cold weather, physical activity, spicy foods, hot drinks or alcohol, or a reaction to cosmetic skin products. Dizziness can actually be related to the side effects of medications prescribed for high blood pressure. The only way to know for sure is to check your blood pressure.
Many older people, especially women, with high blood pressure, experience bouts of dizziness that may be part of a hypertensive crisis – a sudden increase in blood pressure that can cause temporary dizziness or vertigo, tinnitus (ringing in the ears), or headache. A hypertensive emergency is sometimes the reason that a person visits a doctor to have a blood pressure check. It may be that hypertension has an effect on the peripheral auditory and vestibular systems, which can affect a person's sense of equilibrium and orientation in space. High blood pressure can also contribute to problems with memory or cognitive function.
Top 10 Causes of High Blood Pressure
Many factors can lead to high blood pressure. Aging is one factor. If there is a family history of hypertension, you may be genetically predisposed to having high blood pressure, too. Other risk factors also increase the chances of high blood pressure:
Diet high in salt and/or fat

Lack of exercise, sedentary lifestyle

Being overweight

Stress

Too much alcohol consumption

Thyroid and adrenal problems

Kidney problems

Diabetes
Medical diagnosis and treatment for high blood pressure don't really focus on finding a root cause of the problem. General guidelines for eating less salt and fat, losing weight, and finding ways to reduce stress may help people reduce high blood pressure, but for most people, modest lifestyle modifications aren't enough to solve the problem. 
High Blood Pressure During Pregnancy
Some women develop high blood pressure during pregnancy. Called gestational hypertension, this occurs when a woman has elevated blood pressure during the last 20 weeks of pregnancy. While this type of high blood pressure usually goes away after birth, it can be an indicator of becoming hypertensive later in life. In some cases, having high blood pressure while pregnant can cause problems, such as fetal growth restriction, which may happen if not enough nutrients are being carried to the growing fetus through the blood vessels. If high blood pressure and high levels of protein in the urine are both detected, a woman may have preeclampsia, a serious problem that is believed to be caused by restricted blood flow to the placenta. Women with high blood pressure during pregnancy are more likely to experience preterm birth and to have unplanned delivery Caesarean section.
Conventional treatment for gestational hypertension typically involves monitoring and managing high blood pressure with medications. While not many clinical studies have been done regarding acupuncture treatment for gestational hypertension and preeclampsia, TCM has been used to treat high blood pressure and complications of pregnancy for thousands of years. From the TCM point of view, high blood pressure during pregnancy may be due to a deficiency of Liver and/or Kidney Yin, or rising Liver Yang energy in response to a Kidney Yin Deficiency, or Blood or Yin Deficiency. A TCM provider would use diagnostic methods to determine the differentiation and use acupuncture points to nourish the appropriate organs, promote better flow of Blood and Qi, and to help alleviate stress.
How to Control Blood Pressure with Acupuncture and TCM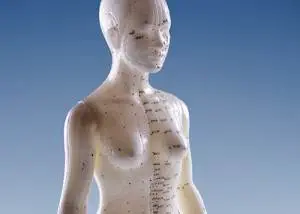 Naturally, for many centuries, TCM practitioners had no way of measuring blood pressure with medical devices. They depended on observations of people's symptoms, appearance, and careful checking of the pulse by hand. Thus, TCM does take into consideration the patient's feelings and experience of symptoms of high blood pressure like:
Dizziness or vertigo

Headache

Shortness of breath

Weakness in the knees 

Memory loss

Vision loss
TCM views dizziness as being a result of too much Liver Yang energy, stagnant Phlegm, Liver-Kidney deficiency, and deficiency or stagnation of Blood and Qi. Hypertension type headaches are caused by the addition of Fire energy coming from the stomach or intestine. Liver Fire can cause irritability and flushing in the face, while Heart Fire can cause chest distress, nervousness, and insomnia. Weakness and fatigue would be caused by the addition of Dampness and accumulated excess fluid. Fluid retention can lead to a distended abdomen, edema, and low back pain.
TCM philosophy also takes into consideration the emotional state as it relates to the physical health of the body. More recent scientific research also confirms that feelings of anger stimulate the sympathetic nervous system and contribute to high blood pressure and heart disease. Finding practices that help how to control anger and find calm are another important part of managing high blood pressure.
A TCM practitioner can treat all of these various symptoms with a combination of acupuncture treatment and herbal supplements individually customized for each patient's specific circumstance. 
One randomized study compared patients receiving acupuncture versus patients receiving sham acupuncture to treat hypertension over a six-week period. The patients who had real treatments showed significantly lower daytime and nighttime blood pressure readings. Another study showed that acupuncture treatment given to patients in conjunction with antihypertensive medications showed significant reduction in both systolic and diastolic BP readings. 
As the results of this research study of many clinical trials concluded, regular acupuncture treatments have the effect of reducing blood pressure, with the effects lasting several days after each treatment. Acupuncture treatment generally has a cumulative effect, and it is necessary to stick with it to get results. It is also crucial that you work with your healthcare practitioner to determine which dietary changes and forms of exercise will best help how to reduce high blood pressure.
Acupuncture Near Me for High Blood Pressure
Managing high blood pressure takes commitment to making long-term lifestyle changes and regular monitoring. Adding acupuncture and TCM to your integrative care regimen may help you reduce high blood pressure, improve related problems like fatigue, dizziness, and headache, and avoid more serious health problems down the line. 
*This article is for education from the perspective of Traditional Chinese Medicine only. The education provided by this article is not approved by FDA to diagnose, prevent, treat and cure human diseases. It should not stop you from consulting with your physician for your medical conditions. Traditional Chinese Medicine is based on Qi, which is an invisible force that usually cannot be observed by modern science. Because science focuses on testing ideas about the natural world with evidence obtained through observation, these aspects of acupuncture can't be studied by science. Therefore acupuncture and Chinese herbs are often not supported by double-blind, randomized trials, and they are considered alternative medicine therapies in the United States.