By Xiaomei Cai, L.Ac., Ph.D. & Qineng Tan, L.Ac., Ph.D.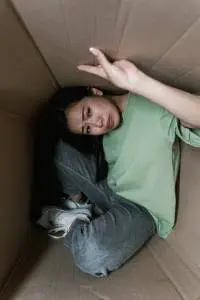 Claustrophobia is a specific kind of anxiety disorder in which fear of being in an enclosed space can bring on symptoms similar to those of panic attacks. Claustrophobic feelings like being anxious, hyperventilating, sweating, shaking, and rapid heartbeat can be eased with acupuncture and TCM.
Claustrophobia is actually quite common; at least 10% of people report experiencing some claustrophobic feelings. Women report having a fear of confined spaces more often than men do. Phobias are sometimes rooted in a childhood experience, but they can arise in anyone, at any age, and are considered mental health issues or psychiatric disorders.
Phobias are distinct from regular fears because of their intensity and, to some extent, irrational nature. Phobias are unreasonable fears; feeling very afraid, to the point of physical and emotional distress, of something that isn't really happening. Claustrophobia becomes a serious mental health problem if it interferes with a person's daily life or relationships.
Sometimes claustrophobia can get in the way of a person getting help for other health problems. For example, it may cause them to avoid undergoing an MRI. Some people might fear visiting a doctor's office, which often means facing elevators, public restrooms, and other small rooms without windows. Some women report feeling claustrophobic during pregnancy, as if they are "trapped" inside their own bodies.
Other common triggers of claustrophobia include: airplanes, trains, tunnels, small cars, revolving doors, or amusement park rides with restraints. Even thoughts of having to be trapped in one of these situations can be enough to bring on symptoms of claustrophobia. Signs of claustrophobia can be similar to those of a panic attack.
Top 10 Symptoms of Claustrophobia:
Sweating

Trouble breathing

Tight feeling in chest, chest pain

Flushed face, feeling hot

Dizziness, feeling lightheaded or faint

Butterflies in stomach feeling, nausea, queasy feeling
Other signs of anxiety due to claustrophobia could include: dry mouth, difficulty swallowing, choking, chills, confusion, or disorientation. In addition to physical symptoms of panic, claustrophobia may cause a person to cry, yell, or to be overwhelmed by a desire to get out of a situation because they feel that they are in serious danger, even if it seems irrational.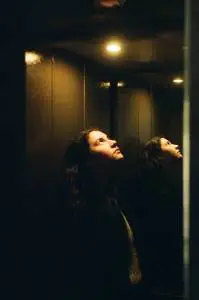 Cleithrophobia is another type of anxiety disorder that is sometimes confused with claustrophobia. Cleithrophobia specifically refers to the fear of being trapped or confined with no way to escape. Claustrophobia is a fear of the small space itself. These two phobias can exist together. Either one could cause serious anticipatory anxiety, for example, if a person has to have an MRI.
Cleithrophobia is related to other "winter phobias," which may include "cabin fever," which is a sense that one is stuck inside, or a fear of being literally trapped in the ice or snow. Many people feel an extra sense of sadness or dread during the winter months; this kind of depression is known as SAD (seasonal affective disorder).
Over time, repeated panic attacks or bouts of intense anxiety brought on by claustrophobia can create long-term stress that is harmful to overall physical and mental health. Acupuncture and TCM offer an adjunct or alternative treatment for claustrophobia which can help reduce symptoms and offset the effects of stress.
What Causes Claustrophobia?
Phobias can be triggered by some event or experience in which a person felt endangered and was traumatized, similar to PTSD (post-traumatic stress disorder). Like other mental health conditions, claustrophobia is influenced by brain chemistry. Imbalances in the neurotransmitters in the brain can cause some people to experience symptoms of anxiety or panic attacks even if nothing scary is really happening. Then, they may associate those physical and emotional feelings with a specific place or situation, which causes the anxiety to be triggered whenever they approach that place or even think of that situation.
People can perceive things differently. One research study suggested that people with claustrophobia may have a different perception of how near something, like a wall, is to them. In other words, they underestimate distances, or their sense of "personal space" is different from other people's.
The amygdala is the part of the brain that processes incoming sensory information from the environment and signals the autonomous nervous system if it detects danger. This is essentially the neurological pathway of fear. Some research has suggested that people who experience panic disorders are more likely to have a smaller-than-average amygdala.
Treatment for Claustrophobia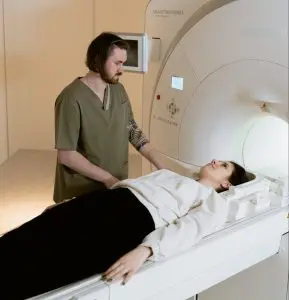 To be diagnosed with claustrophobia, a person will need to explain to their doctor that they have been having these intense feelings for a while and that they are having a negative impact on their lives. This could mean that they go out of their way to avoid certain places or situations. A mental health professional will try to determine whether these fears are normal, or could be attributed to some other condition. 
Some doctors may prescribe SSRIs like Zoloft or Lexapro, which influence serotonin levels in the brain, to help patients who are suffering from claustrophobia or anxiety. Often therapy is recommended to help patients learn to cope with their feelings. Cognitive behavioral therapy (CBT) and/or exposure therapy aim to retrain the mind and may help people learn to get used to being in a small space without feeling so anxious.
Psychiatric medications can have unwanted side effects and may create a sense of dependence. Some people will avoid therapy because it can be very confronting and become another source of fear.
Acupuncture and other TCM modalities, including herbs and movement techniques like Tai Chi, may offer an alternative solution for panic attacks due to claustrophobia, without side effects or having to work through the problem with uncomfortable talk therapy sessions.
Can Acupuncture Help Claustrophobia?
According to TCM, the organ systems closely associated with fear are those of the kidneys, liver, and heart. Kidney deficiency, in particular, can cause fear and mental disturbances. These types of mental disorders can also be related to imbalances in Yin and Yang energies, and blood deficiencies. An acupuncture practitioner's approach to treatment for claustrophobia may, therefore, focus on strengthening and nourishing the kidneys, while soothing the liver and heart.
One study compared patients who knew they had claustrophobic feelings going into an MRI; some were treated with acupuncture based on TCM acupoints. Control groups patients were given sham acupuncture (not really the points that would correspond with TCM theory). They concluded that the real acupuncture treatment did offer a therapeutic effect for claustrophobia, with a 92% rate of effectiveness; meaning, the patients were able to remain calm during the MRI.
A case study of a woman who had experienced bouts of claustrophobic symptoms since her teenage years, including shortness of breath, trembling, sweating, and loss of motor control in her hands and feet. After six acupuncture treatment sessions, she reported much improvement: feeling calmer, no headaches, palpitations, or anxiety. Chinese herbs can also be used, in conjunction with acupuncture treatment, help a person overcome claustrophobia.
Acupressure Points for Claustrophobia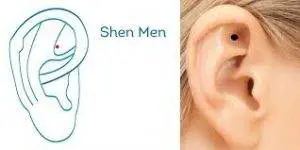 In between acupuncture sessions, you can use self-care acupressure to relieve claustrophobia. 
Shen Men is a Master point, located in the valley of the upper part of the ear. This is a classic point to help feelings of anxiety.
Shoujie, which is located on the palm of the hand between the metacarpals of the fourth and fifth fingers, along the topmost crease, helps relieve palpitations and dizziness.
Acupuncture for Claustrophobia Near Me in Los Angeles Area
TCM is an excellent way for people to find relief from mental health issues of all kinds, including depression, anxiety, panic attacks, and phobias. We will do all we can to make sure that you are comfortable in one of our larger treatment rooms with a window, and to make your acupuncture treatment experience relaxing and pain-free. If you or someone you know is finding that the thought of enclosed spaces is creating anxiety in day-to-day life, please do not hesitate to try acupuncture for claustrophobia.

*This article is for education from the perspective of Traditional Chinese Medicine only. The education provided by this article is not approved by FDA to diagnose, prevent, treat and cure human diseases. It should not stop you from consulting with your physician for your medical conditions. Traditional Chinese Medicine is based on Qi, which is an invisible force that usually cannot be observed by modern science. Because science focuses on testing ideas about the natural world with evidence obtained through observation, these aspects of acupuncture can't be studied by science. Therefore acupuncture and Chinese herbs are often not supported by double-blind, randomized trials, and they are considered alternative medicine therapies in the United States.