By Qineng Tan, L.Ac., Ph.D. & Xiaomei Cai, L.Ac., Ph.D.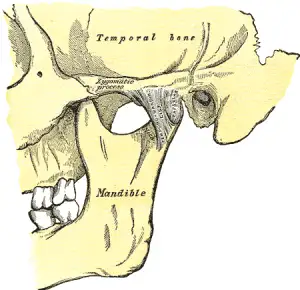 What is TMJ? "TMJ" is an acronym for "temporomandibular joint," which is the double joint structure that attaches the lower jaw to the skull. "TMJ" is also used as a general term to refer to disorders of the jaw joint. Popping or clicking of the jaw joints, tension or pain in the jaw, grinding teeth, headaches, neck pain, and shoulder pain can all be signs of a TMJ disorder, or TMD. Acupuncture and TCM offer relief from TMJ jaw pain and inflammation.
The jaw joint is totally unique among joints in the human body in a few ways. It is really two joints that must always work together; you cannot choose to just move one side of your jaw. Also, the temporomandibular joint has two ways in which it moves; it "hinges," and then, it "slides."
Hinge joints, like the knees and elbows, allow flexion and extension on one plane, while remaining stabilized by a complex group of muscles, ligaments, and other connective tissues. Most of these joints are made of bones that are "molded" to fit and move together. Gliding joints, also called plane joints, like those in the ankles, wrists, and vertebrae, have flat sides that slide alongside each other when they move. The jaw joint combines both of these actions. Essentially the movement of the jaw is a kind of dislocation by design. Small discs of cartilage help to cushion the areas where the jawbone interacts with the sides of the skull in front of the ears.
It can be difficult to determine the exact causes of "TMD," or temporomandibular disorders that cause pain and dysfunction. Injury to the jaw, dislocation of the jaw, inflammation of tissues, arthritis, and bruxism (clenching or grinding the teeth and jaw) can all potentially lead to jaw pain or clicking in the jaw. Erosion or damage to the cartilage sometimes causes TMD, impacting the usually smooth motion of the opening and closing of the jaw. Structural issues like missing teeth or an uneven bite can cause jaw problems. Dental and orthodontic work that requires the patient to hold the mouth open for long periods of time can sometimes lead to TMJ pain. Habitual movements like teeth grinding, biting on things like pencils, nail biting, or leaning your chin on your hand can also contribute to TMJ pain. Chronic pain syndromes like fibromyalgia can also cause jaw pain.
Most cases of TMJ disorders resolve themselves over time, usually within a few to several months. Resting the jaw and eating soft foods is usually recommended. Medical treatment usually involves medications to reduce inflammation and relieve pain while waiting for the jaw joint to gradually regain its normal function. Only in rare cases is surgery necessary to get rid of jaw pain. 
TMJ, or myofascial pain in the muscles around the jaws, is experienced by a third or more of all adults at some point in their lives. TCM modalities like acupuncture can help alleviate the pain and impeded mobility of the jaw joint caused by TMJ disorders.
Top 10 Symptoms of TMJ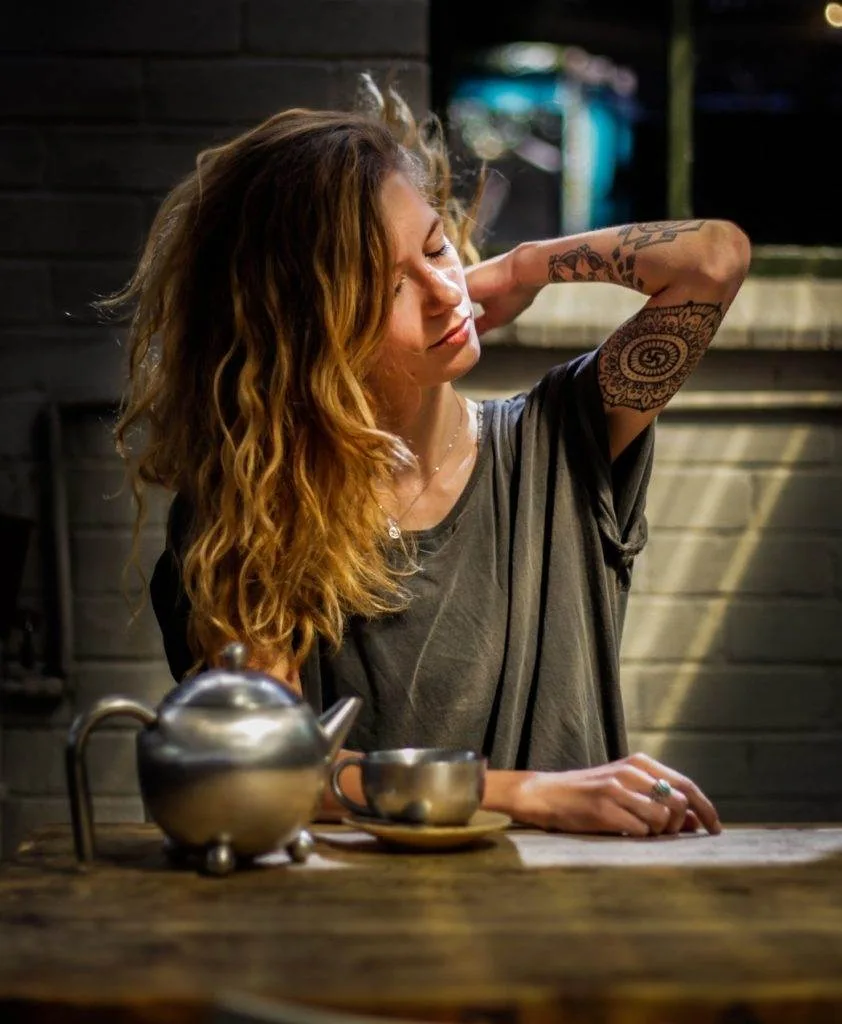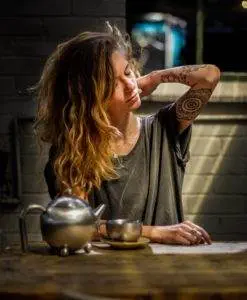 Pain around the jaw joints that comes and goes is the most common complaint of people with TMJ disorders. However, problems with the jaw can contribute to pain and tension in other parts of the head and shoulders, too. The most common signs of TMJ include:
Pain in cheeks, tension in the jaw

Jaw clicking, popping of jaw bones

Limited movement of jaw, can't open jaw normally

Clenching of jaw, grinding teeth at night

Tooth pain, pain in the back teeth

Ear pain, ringing in the ears, tinnitus
Stiffness in shoulders or neck, pain in neck, shoulder pain
The combination of hard bony structures, muscles, and cartilage that are all involved in TMD causes TMJ pain that is hard to pinpoint because it may move around, and come and go. Most people describe the sensation as a dull ache. Some people don't experience pain, but still have trouble with jaw clicking or opening and closing the jaw.
What Is the Treatment for TMJ?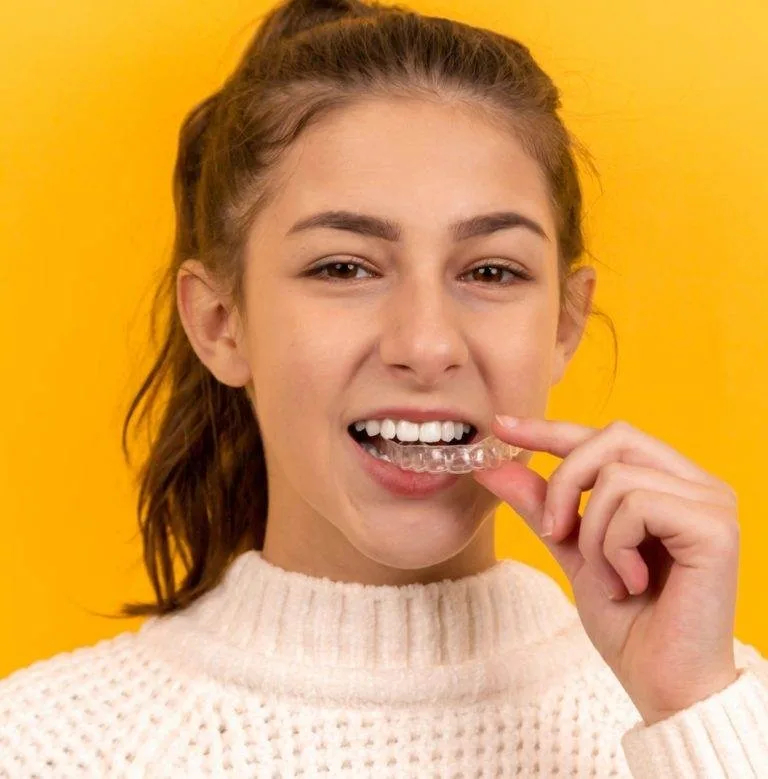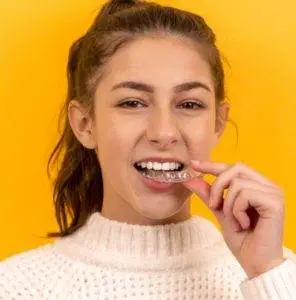 A doctor or dentist may check for signs of TMJ by observing and manually examining the movement of the jaw joint. Dental X-rays may be used to help determine the cause of jaw pain. CT scan or MRI may be recommended to get a more detailed look at the bones and cartilage. 
The primary recommendations for jaw pain and clicking is to rest the jaw as much as possible and eat only soft foods. Physical therapy (PT) can help strengthen the muscles of the face and encourage people to change habitual behaviors that might be contributing to TMJ. Wearing a splint or bite plate keeps the mouth and jaw in place and prevents grinding teeth in the night. This combination of PT and splinting is called stomatognathic treatment. If pain is serious enough to require further medical treatment, doctors will usually prescribe either pain relievers, anti-inflammatories, muscle relaxants, or some combination of these. Surgery is only used in rare cases when the jaw has become "locked," or TMJ inflammation and pain has become chronic.
Acupuncture and TCM treatment offer a way to reduce inflammation and pain related to TMJ disorders without risky surgical procedures or the adverse side effects sometimes caused by corticosteroids and other medications.
Acupuncture Treatment for TMJ
Acupuncture can work to reduce inflammation and pain from many different conditions, including musculoskeletal disorders like TMD. Acupuncture is effective at reducing sensations of pain, both by reducing inflammation in areas from which the pain is originating and by stimulating the release of endorphins and other neurotransmitters that help boost feelings of well-being. Acupuncture treatment can also help the muscles involved with jaw function to relax, alleviating the "clicking" or "popping" associated with TMJ disorders. 
In TCM theory, TMJ is often related to what we call different types of "obstruction" syndrome. Stress and trauma, both physical and emotional, can cause Qi stagnation and/or blood stagnation. Pathogenic forces like cold, heat, wind, and damp can cause painful obstruction, or blockages of energy and blood in certain areas of the body. People suffering from TMJ do not necessarily only have dental pain or myofascial pain, a clicking jaw, or limited movement. They may also be experiencing a variety of other symptoms that are actually related. A TCM practitioner will look at the whole picture of what each patient is feeling, and treat accordingly.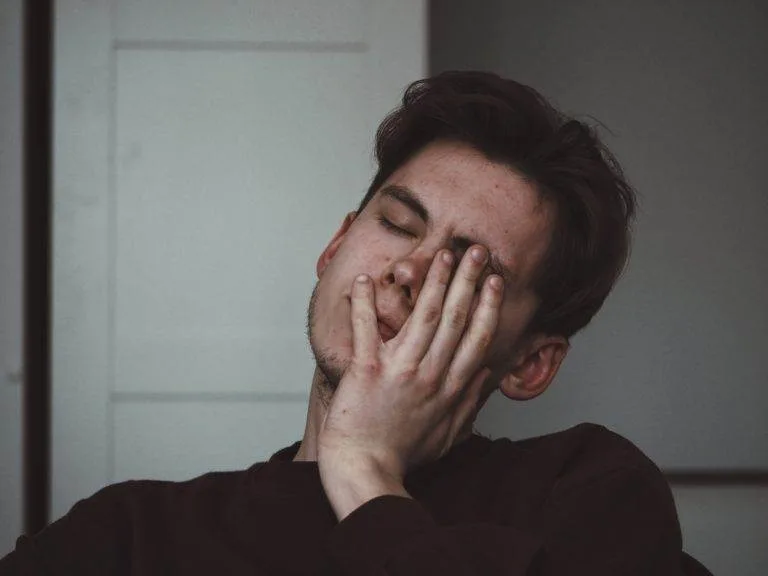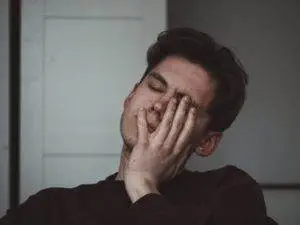 For example, a person with Liver Qi stagnation may have: 
tension in the facial muscles

neck pain

feelings of anger or anxiety,

ringing in the ear, tinnitus

headaches
A person with a Wind/Cold Bi Syndrome presentation might feel:
acute onset of pain

pain moves around from one area to another

aversion to wind and cold

fever, chills

ear ache, ringing in the ears
As a holistic form of medicine, TCM works not only to relieve jaw pain and swelling, but to get to the root of the problem.
A comparative study designed to evaluate TCM treatment for TMJ found that patients who received acupuncture treatment reported less pain and muscle tenderness than those that did not. 
A clinical study that compared groups of patients who received acupuncture treatment for TMJ pain and limited motion to patients treated with decompression splints. Both groups experienced reduction in pain and increased mobility, and the researchers concluded that acupuncture can be considered beneficial as either an adjunct or alternative treatment.
In some cases, a stiff, painful jaw joint can be a secondary symptom of another, more systemic problem like rheumatoid arthritis or fibromyalgia. These conditions can also be addressed with acupuncture.
Acupuncture Near Me for TMJ Disorders
TMJ disorders interfere with a person's most basic activity: eating. While most cases of TMD improve within a matter of months with the proper rest, they can cause a lot of pain and frustration while a person is waiting to heal. Acupuncture and TCM herbs can help relieve TMJ pain and restore normal jaw function, helping people get back to normal more quickly than rest alone. At Art of Wellness, we have over 30 years of experience helping patients with musculoskeletal disorders and pain of all kinds find relief and a return to their usual mobility.
*This article is for education from the perspective of Traditional Chinese Medicine only. The education provided by this article is not approved by FDA to diagnose, prevent, treat and cure human diseases. It should not stop you from consulting with your physician for your medical conditions. Traditional Chinese Medicine is based on Qi, which is an invisible force that usually cannot be observed by modern science. Because science focuses on testing ideas about the natural world with evidence obtained through observation, these aspects of acupuncture can't be studied by science. Therefore acupuncture and Chinese herbs are often not supported by double-blind, randomized trials, and they are considered alternative medicine therapies in the United States.