By Qineng Tan, L.Ac., Ph.D.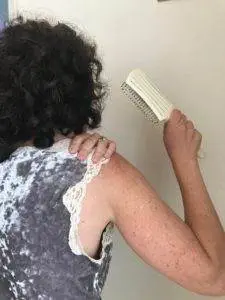 Shoulder pain is one of the most common types of musculoskeletal pain amongst adults, affecting about one in four people in their lifetime. Almost 20% of disability cases related to chronic pain are due to disorders of the shoulder, such as frozen shoulder (also known as adhesive capsulitis), torn rotator cuff, and tendonitis in shoulder. Neck and shoulder pain can be caused by injury, overuse, arthritis, or degeneration of tissues over time. 
Shoulder pain is usually treated first with medications to reduce pain and swelling, and suggested activity modifications. Often people are referred to physical therapy (PT) or sports medicine specialists, so that a specific regimen of exercise can strengthen and stabilize the joints. In more severe cases, surgery may be required to repair torn tendons or cartilage. Acupuncture and other TCM modalities can be used to complement these conventional treatments, helping to reduce inflammation, alleviate pain, speed healing and improve range of motion.
In this article we will discuss some of the causes of shoulder pain, how it is usually treated with conventional methods, and how acupuncture and TCM can help reduce and prevent recurrence of shoulder pain.
Anatomy of the Shoulder
The shoulder is generally thought of as a "ball and socket" joint, but in fact, this part of the body has such a high level of utility and mobility because it is made up of several bones and a complex system of muscles, tendons, and bursae–little fluid-filled sacs that provide cushioning between the bones. 
There are really three joints that make up the shoulder: the acromioclavicular joint (AC joint), where the collarbones (clavicle) and shoulder blades (scapula) meet, the glenohumeral joint, where the ball-shaped head of the long arm bone (humerus) fits into a shallow socket (glenoid), and the sternoclavicular joint, where the clavicle meets the sternum. These bones are held together by the "rotator cuff," a collection of four major muscles and tendons.
The unique construction of the shoulder allows for a wide range of motion, including flexion and extension, adduction and abduction, and both medial (internal) and lateral (external) rotation of the socket joint. The scapula joint allows for protraction and retraction, elevation and depression. All of this amazing mobility comes at a price, however. It is up to the muscles and tendons to provide stability, and when these soft tissues are injured or weakened, the shoulder can become unstable and/or lose part of that mobility.
The 10 Most Common Causes of Shoulder Pain
The most common cause of shoulder pain is a problem with the rotator cuff. When the tendons are torn, or even just inflamed, it can be difficult and painful to lift the arm. This can be caused by repetitive motions executed during manual labor (especially overhead motions, as with painting or construction) or sports-related injuries (especially common with baseball and tennis). In some cases, the tendons of the rotator cuff tear, either due to a sudden injury (acute torn rotator cuff), or degeneration of tissue that occurs over a long period of time (chronic shoulder pain). Other causes of shoulder pain can be related to the bursae, or a disorder of the way the tendons and bones fit and move together.
Common causes of shoulder pain include:
Torn rotator cuff – A tear or tears in the muscles and/or tendons of the shoulder joints generally causes a dull pain that worsens when you sleep on it. It can cause difficulty performing simple actions such as combing your hair, and all of the actions of the arm may be weakened. A tear can be caused by a sudden injury, but is more commonly due to repetitive motions related to physical engagement in work or sports over a long period of time. Rotator cuff problems should not be ignored. Some tears are best treated with surgery before they become larger. Without adequate treatment and changes in movement behaviors, torn rotator cuff tendons can lead to serious degeneration of the tissues and permanent loss of mobility.

Frozen Shoulder – Also known as adhesive capsulitis, which refers to the capsule of tissues that surrounds the shoulder joints. When these tissues tighten and become more rigid, it creates a stiffness and severe pain in the shoulder and arm, making it increasingly hard to move without shoulder pain lifting arm. This condition is more common in women, and is seen more often in people between the ages of 40 and 60. PT can be effective for improving flexibility.

Tendonitis – this refers to inflammation of the tendons that attach the muscles to the bones of the shoulder joints. When the tendons become inflamed, the area feels tender and achy, and normal activities can be difficult.Tendonitis in shoulder can often resolve itself with rest and reduction of the inflammation.

Bursitis – this occurs when the small, fluid-filled sacs called bursae become inflamed, again, either due to injury, repetitive movements, or other conditions that cause inflammation, such as rheumatoid arthritis. This can cause even small movements, like pushing open a door, to hurt. Usually patients are cautioned to rest, and perhaps even wear a brace to restrict movement until the inflammation is resolved.

Arthritis – when cartilage and the synovial lining that lubricates the joints begin to wear away over time, the bones of the joints begin to rub against each other. This generally happens in older people, and they begin to feel deep aching that sometimes gets worse when the weather changes. Along with rest, PT, and anti-inflammatories, patients are often treated with corticosteroid shots to temporarily reduce pain and inflammation.

Shoulder Impingement – Some of the muscle and tendon tissue of the shoulder is sandwiched between the bones. When the movement of the shoulder causes parts of the soft tissue to be pinched by the bones, causing pain, it is called subacromial impingement. This can be caused by swelling of those tissues due to overuse, or because of a tear in a tendon or the labrum, or because of arthritis causing a change to the shape of the bone. In some cases the congenital shape of the acromion or coracoid bones can make someone more susceptible to impingement. The development of a bone spur could also cause this problem. In these cases, surgery to remove bone and create more space in the joint may be indicated.

Dislocation – This occurs when the upper arm bone (humerus) pops out of the cup of the socket bone (glenoid). This can happen when the arm is suddenly pulled or twisted sharply, or when a person falls on their outstretched arm. The shoulder is the joint most commonly dislocated, and this injury happens more often in young people. It causes severe pain, swelling, bruising, and loss of mobility. Once the displaced arm bone is reset in the socket, mobility returns, but it can take a long time to regain strength. A person may be prone to dislocating the shoulder again without physical therapy, and in some cases, reconstructive surgery is required. 

Separation – This is an injury that causes AC joint pain, in which the ligaments that connect the collarbone to the shoulder blade are torn. This most commonly happens because of a fall right onto the shoulder. This often causes a bump or bulge on the top of the shoulder, where the clavicle is sticking up at an odd angle while the scapula drops down. A mild sprain causing clavicle pain may be healed with rest and restriction of movement with a sling. More severe cases may require surgery. Either way, physical rehabilitation is indicated to help restore mobility and strength.

Broken collarbone – The collarbone/clavicle, which connects the arm to the ribcage, is a fairly exposed and delicate bone. It commonly breaks due to a fall. This injury causes collarbone pain and makes it hard to move the arm, causes the shoulder to sag, and creates a lot of bruising and swelling. If the break is clean, the shoulder can be immobilized with a sling until it heals. If the broken ends of the bone have shifted apart, though, surgery may be necessary to realign them. PT rehabilitation will then help through a long healing process.

Labral tear – the labrum is a rounded rim made of cartilage that helps hold the top of the arm firmly in the shoulder girdle. Sometimes the labrum is stretched or torn due to injury or overuse, causing the joint to become loose and unstable. This can feel like a gentle shoulder pop or locking sensation when you move, or it can produce a severe pain when you try to lift the arm. A labral tear can cause loss of strength and range of movement. This condition is usually diagnosed by a specific imaging technique called an MR arthrogram. A labral tear may be helped by lifestyle changes to prevent aggravation, anti-inflammatory medications, cortisone, shots, and physical therapy. In some cases, a severe or complicated case may require surgery to repair the tear or tighten the joint capsule.
Other types of sore shoulder include: a pinched shoulder nerve in the neck area that can cause radiating neck and shoulder pain, or a muscle pull in the upper back or top of the arm, as in trapezius pain, rhomboid pain, or deltoid pain. Problems with the jaw, or TMJ disorders, can also contribute to shoulder pain.
Acupuncture and TCM for Shoulder Pain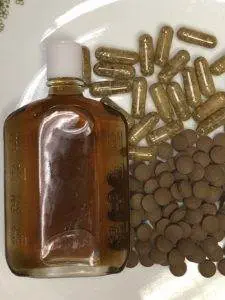 As you can see, resolving shoulder pain relies heavily on the reduction of inflammation. It may be that inflammation with a separate root cause (such as heart disease or an autoimmune disorder) created a problem with the soft tissues of the shoulder joints in the first place, or it may be that an injury to the shoulder is the primary source of the inflammation. Either way, reducing the inflammation is the key to relieving shoulder pain and restoring mobility to the joints. 
Acupuncture is a highly effective modality for reducing inflammation, without the sometimes severe side effects that can arise from other conventional treatments like steroid injections. Cortisone shots can reduce pain and swelling temporarily, but repeated shots can cause damage to the area, and in some cases, infections at the site. Cortisone can also raise blood sugar levels, increasing the risk for diabetes. 
Scientific evidence suggests that acupuncture treatments reduce inflammation by stimulating the pituitary gland to release more cortisol naturally. It is also hypothesized that acupuncture affects the release of neuropeptides from the peripheral nerve endings, which is a key part of the body's inflammatory response.
In TCM vocabulary, we consider inflammation to be due to a stagnation of Qi and blood, not only in the area immediately affected, but also in related organ systems. In the case of the shoulder, the corresponding organ system is often that of the large and small intestines. To relieve shoulder pain and restore freedom of movement, it is also necessary to "re-train" the shoulder muscles to move together smoothly. Physiotherapy can be very helpful for this, but there are also TCM practices that can be integrated to help achieve better mobility. One study compared patients with frozen shoulder who were performing exercises to improve the condition with patients who exercised and received regular acupuncture treatments. The patients treated with acupuncture scored significantly higher in improved mobility and reduced pain, and the positive effects lasted for months after treatment ended.
Tuina and Gua Sha, specific forms of therapeutic massage administered by doctors of TCM, can also be used as part of comprehensive treatment for relieving stiffness in the shoulder.
Chinese herbs have been used for thousands of years to help reduce inflammation in the body.More recent scientific studies have demonstrated the direct anti-inflammatory and analgesic effects of Chinese herbal formulations. Specifically, herbs have been shown to inhibit the swelling caused by cytokine production that is typical of chronic joint diseases.
Top 3 Tips for Relief and Prevention of Shoulder Pain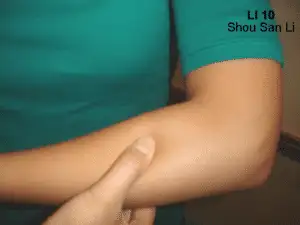 The best way to relieve and prevent shoulder pain from recurring is to manage inflammation. Regular acupuncture treatments are beneficial, but there are also some excellent self-care techniques you can use to relieve pain and improve function.
Acupressure point for shoulder pain: LI10 (large intestine meridian). Find this point on the front side of the forearm, about three inches below the elbow. Apply gentle pressure while breathing deeply to relieve stiffness and pain in the shoulder, neck, and elbow. 

Practice stretching and strengthening exercises for the shoulder joints. Start slowly, with gentle movements to improve range of motion, then move up to using some light weights to help strengthen the muscles. 

Pendulum – Lean forward with one arm hanging loosely. Use the other arm to brace against a chair for support. Gently swing the hanging arm from side to side, forward and back, and in a circular motion. Slowly return to a standing position. Repeat on the other side.

Wall angels – Stand with your back to a wall, with the arms at your sides, whole arm and back of the hand pressed to the wall. Slowly raise your arms, keeping them pressed to the wall, and lower them in a "snow angel" motion. 

Follow an anti-inflammatory food program – avoid foods that cause inflammation, including fried foods, refined carbohydrates (flour, sugar, etc.), red meat, and processed fats like margarine and shortening. Consume lots of leafy greens and cruciferous vegetables, fresh fruits, especially berries and cherries, emphasize fish as a primary protein source, and use high quality olive oil. Your acupuncture provider will be able to give you more specific directions for how to eat best to improve your condition.
Acupuncture Near Me for Shoulder Pain
Art of Wellness Acupuncture & TCM in Santa Monica, California, was recently chosen as one of the top 20 acupuncture clinics in Los Angeles. Our doctors have over 30 years of experience both in China and here in the United States. Dr. Tan is a specialist, with training in both TCM and conventional medicine, in orthopedic, musculoskeletal, neurological, and chronic pain disorders of all kinds. We work in an integrated fashion with your other medical practitioners to help you achieve the best results. If you or someone you know is suffering from shoulder pain, call us at 310-451-5522 to schedule a consultation.
*This article is for education from the perspective of Traditional Chinese Medicine only. The education provided by this article is not approved by FDA to diagnose, prevent, treat and cure human diseases. It should not stop you from consulting with your physician for your medical conditions. Traditional Chinese Medicine is based on Qi, which is an invisible force that usually cannot be observed by modern science. Because science focuses on testing ideas about the natural world with evidence obtained through observation, these aspects of acupuncture can't be studied by science. Therefore acupuncture and Chinese herbs are often not supported by double-blind, randomized trials, and they are considered alternative medicine therapies in the United States.