By Qineng Tan, L.Ac., Ph.D. & Xiaomei Cai, L.Ac., Ph.D.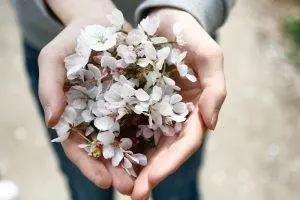 Do you have joint pain, swelling or stiffness in the joints, especially finger joint pain or a swollen knee? Maybe you feel that the joint pain is moving to other parts of your body, or flares up sometimes, and then seems to go away. Joint pain accompanied by fever and fatigue may be a sign of Rheumatoid Arthritis (RA), an auto immune disease that causes inflammation and can lead to serious physical disability. Acupuncture and TCM offer a way to help people who suffer from Rheumatoid arthritis, as well as other types of arthritis and autoimmune disorders.
Arthritis is a general term that refers to all kinds of joint pain. Most types of arthritis begin to occur due to aging and the repeated "wear and tear" on the joints of the body that happens as we move through life. Any place in the body where two bones meet is considered a joint, so arthritis pain and inflammation can occur in the large joints of the limbs, causing shoulder pain or hip pain, in the spine, causing back pain, or in the extremities: arthritis in hands and feet. Rheumatoid arthritis most commonly shows up first as arthritis in fingers, hands, and knees.
RA can also be considered a connective tissue disorder, and, as such, bears similarities to Lupus and Ehlers-Danlos Syndrome (EDS).
Rheumatoid arthritis used to be commonly known as "rheumatism," and now may be referred to as "RA." It is different from other types of arthritis because the joint pain is caused by immune system problems, not injury or overuse of the joint.
When a person develops an autoimmune disorder, their immune system is mistakenly attacking normal tissues in the body. In the case of RA, an immune response attacks the lining of the joints, a soft tissue membrane called synovium. This creates inflammation and can ultimately begin to cause damage to the bones themselves (osteoporosis). Affected parts of the body can begin to change shape, become weak, and eventually lose their ability to function properly.
In later stages of RA, other body systems can be affected, as well. The joint lining contains blood vessels and nerves, so damage to the synovium can also impact the cardiovascular system and the nervous system. People with RA are at greater risk for developing nerve damage, heart disease, lung disease, and problems with the eyes. People with Rheumatoid arthritis can also be more prone to getting infections like the flu or pneumonia, and certain types of cancers, like lymphoma. 
RA can affect your body composition, leading to obesity. Some people may lose weight initially, but it is usually muscle mass that is lost, as RA makes exercise difficult. This means that people can end up with an unhealthy ratio of fat to muscle.
RA is different from osteoarthritis in that it can show up at any time in life. Sometime children develop Juvenile Rheumatoid Arthritis (also known as Juvenile Idiopathic Arthritis). Like RA in adults, this is an autoimmune disorder, and can cause other symptoms like fever and rashes. Some children will grow out of their RA symptoms; others may carry this disorder with them into adulthood.
Most people with RA begin to show signs in their middle age. Women are more likely to have RA than men. As with other autoimmune diseases, medical science has not determined the exact Rheumatoid arthritis causes, but they may be partly genetic, and partly having to do with hormones. Environmental factors may contribute to RA, as can stress and strong emotions. Past illnesses or viral infections, like Epstein Barr virus, can also be a factor.
TCM and acupuncture treatment for Rheumatoid arthritis works on multiple levels. Acupuncture can help to reduce inflammation and stiffness in the joints. TCM treatment with herbs helps to improve and balance immune function. Acupuncture can also relieve emotional symptoms related to stress, fatigue, and depression.
Top 10 Rheumatoid Arthritis Symptoms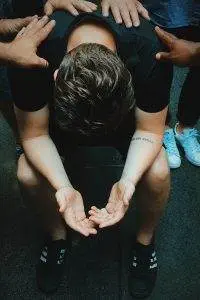 For some people the symptoms of Rheumatoid Arthritis may develop slowly over many years; for others, they may start suddenly. People will experience RA symptoms as different sensations, in different parts of the body, which is part of what makes it difficult to diagnose. The most common symptoms of RA include:
Joint pain that starts in the smaller joints: pain in hands, pain in knees, pain in toes

Redness and swelling in joints: swollen fingers, swollen knee, hands swollen, ankle swollen

A sensation of heat or warmth in the joints

Stiffness first thing in the morning that gets better as the day goes on

Fatigue, feeling exhausted, tired all the time

Pain in same joint on both sides, for example, pain in both knees

Hard lumps under the skin near the painful joints (Rheumatoid nodules)

Low grade fever

Depression, feelings of frustration or hopelessness
People with RA that affects their hips, knees, or ankles may begin to walk with a limp. Diminished function of the joints may cause a person to lose their grip strength and coordination. Over time, the hands and fingers or feet and toes may begin to become disfigured, as loss of soft tissue and bone changes their shape. 
Rheumatoid Arthritis Treatment
At this time, treatments for rheumatoid arthritis are mainly directed towards relieving pain, reducing chronic inflammation, and slowing down the progression of this inflammatory disease.
 A primary care physician will probably refer patients to a rheumatologist for rheumatoid arthritis diagnosis and treatment. Rheumatologists specialize in joint diseases and all types of arthritis, so they treat joint pain related to conditions like osteoarthritis, psoriatic arthritis, reactive arthritis, musculoskeletal pain related to fibromyalgia, tendonitis, and autoimmune diseases like lupus.
Typical medical options for RA include NSAIDs and corticosteroids, to quickly reduce pain inflammation. Anti-rheumatic drugs, known as DMARDS, have both anti-inflammatory and immunosuppressive properties. They work more slowly, but if started soon after diagnosis, they can help to prevent more damage to joint tissues, and relieve RA symptoms.
Unfortunately, all of these medications carry side effects. In the case of DMARDS, some patients experience gastric upset, headaches, and fatigue. They can also increase chances of infections, which is already a problem for people with RA.
Biologics are another type of injectable medication used to help relieve chronic inflammation by suppressing certain immune responses. These can also put people at higher risk for infections and certain cancers.
Acupuncture and TCM offer a way to reduce inflammation and pain without side effects.
Can Acupuncture Help Rheumatoid Arthritis?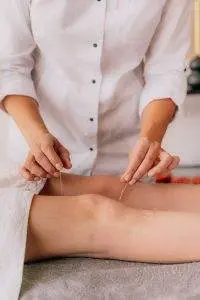 TCM has its own way of categorizing diseases. According to TCM theory, Rheumatoid arthritis falls under the category of "Bi" disorders. In TCM, environmental factors like cold, wind, heat, and dampness can invade the body and affect the organs, ultimately causing organ systems to malfunction. When they manifest in the body, pathogenic factors like cold and dampness can slow down or block the flow of blood and Qi (life force energy) through the body. 
"Bi" conditions involve obstructions of Qi and blood that then lead to stiffness, swelling, soreness, redness, and heat in the joints. The famous TCM medical text known as "The Yellow Emperor's Classic of Internal Medicine," which was written a few centuries B.C., recorded identification of Bi syndromes. Bi syndromes can certainly be in part related to outside environmental conditions, such as living in a cold, wet, windy place. They can also be related to a weakness of protective Qi that would translate into conventional terms as being a weakened immune system. Thus, Bi syndromes include rheumatoid arthritis, other types of arthritis, and other painful joint conditions like gout, lupus, and neuralgia.
A review of studies conducted on patients who received acupuncture treatment for Rheumatoid arthritis concluded that TCM is a good method for helping patients with this type of condition. TCM acknowledges that within one disease, different people may have very different symptoms, due to their genetics, or what we sometimes call "constitution." One person will show hot symptoms like redness, swelling, and fever. Another person may find that their joint pain is particularly affected by cold, wet weather. An acupuncturist near me will look and listen to see what sort of pattern has developed, and will treat each individual accordingly with acupuncture points for joint pain.
Acupuncture Near Me for Rheumatoid Arthritis in Greater Los Angeles
TCM offers a framework in which we are able to see autoimmune disease as a collection of issues that can all be addressed in concert. With acupuncture and herbs, we can help relieve pain and inflammation, while also building back up of the systems of the body that have become weak. At Art of Wellness in West LA, we have many years of experience helping people manage autoimmune disorders and get relief from joint pain.
*This article is for education from the perspective of Traditional Chinese Medicine only. The education provided by this article is not approved by FDA to diagnose, prevent, treat and cure human diseases. It should not stop you from consulting with your physician for your medical conditions. Traditional Chinese Medicine is based on Qi, which is an invisible force that usually cannot be observed by modern science. Because science focuses on testing ideas about the natural world with evidence obtained through observation, these aspects of acupuncture can't be studied by science. Therefore acupuncture and Chinese herbs are often not supported by double-blind, randomized trials, and they are considered alternative medicine therapies in the United States.