By Qineng Tan, L.Ac., Ph.D. and Xiaomei Cai, L.Ac., Ph.D.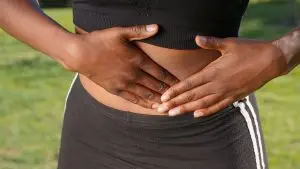 Pain in lower left abdomen? Stomach pain or pain in lower abdomen? Nausea, vomiting? Constipation or diarrhea? These may be diverticulitis symptoms. Acupuncture and TCM offer a way to help relieve diverticulitis pain and restore normal bowel function.
Diverticulosis refers to the presence of small sacs or pouches of tissue inside the large intestine, most often the colon (colonic diverticulitis), which are called "diverticula."
Diverticulitis refers to the condition that occurs when the sacs become inflamed and infected. Diverticulitis causes pain and other symptoms like bloating and pain in left abdomen that might feel better after you pass gas or have a bowel movement.
Diverticular disease is becoming more and more common and is particularly widespread amongst older people, with at least half of all people over the age of 60 showing signs of diverticulosis.
While medical science has not definitively determined why people develop diverticulosis, it is believed to be due to eating a diet that is low in fiber and high in fatty foods like red meat.
Sedentary lifestyle (lack of exercise), being overweight or obese, smoking cigarettes, and regular use of anti-inflammatory medications or OTC pain medications (NSAIDs) may also be factors in the development of diverticulosis.
Many people have diverticulosis but are unaware of it because they don't have any symptoms. It is only when the diverticula become infected and inflamed that diverticulitis treatment becomes necessary.
Acupuncture and TCM offer an alternative diverticulitis treatment that can help relieve pain and reduce inflammation in the colon.
Top 5 Diverticulitis Symptoms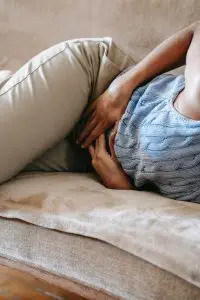 Diverticulitis symptoms are believed to occur because something like a bit of undigested food or stool becomes trapped inside one of the diverticula, and then bacteria start to grow, causing an infection. 
While a person can have diverticulosis for a long time without any signs, symptoms of diverticulitis may come on suddenly and be quite severe.
The common signs of diverticulitis include:
Abdominal pain or cramping, particularly pain in lower left abdomen—although in Asian countries, pain in lower right abdomen seems to be more prevalent. The pain may be constant, or it can come and go.

Nausea and/or vomiting

Fever and/or chills

Constipation or diarrhea

Rectal bleeding, bloody stool
Sometimes diverticulitis may cause a total lack of appetite and sudden weight loss, as a person just stops feeling like eating anything.
Diverticulitis can sometimes lead to more serious complications, like an abscess—which is when the infected area swells and fills with pus—or perforation of the bowel wall. These kinds of issues may require surgery.
Diverticulitis Treatment
Some other gastrointestinal disorders can present with symptoms that are similar to those of diverticulitis, such as: colitis or inflammatory bowel disease, IBS (irritable bowel syndrome), or bowel obstruction. Gynecological problems like endometriosis, an ovarian cyst, or an ectopic pregnancy could also cause severe pain in the lower left abdomen. A UTI could also cause acute abdominal pain.
Diagnosis of diverticulitis will usually begin with a doctor feeling the abdomen for signs of tenderness, then they will order tests (blood tests, urine tests, and/or stool tests) to check for infection. Once other problems have been ruled out, a CT scan may show the diverticula (infected sacs/pouches in the large intestine). 
There is some debate about when to perform a colonoscopy in cases of diverticulitis, as the procedure can cause perforations of the intestinal lining to become worse. Usually, a colonoscopy is recommended several weeks after a person has recovered from an acute attack of diverticulitis.
Because diverticulitis is usually caused by an infection, the most common medical treatment is a course of antibiotics, along with rest and pain relievers, until the acute symptoms have abated. A liquid diet may be indicated until the situation improves, with the gradual reintroduction of solid foods.
Recommendations will usually include that a person quits smoking (if they smoke) and makes changes in their diet: especially eating less meat and fatty foods and increasing fiber intake. It used to be common for doctors to tell their patients not to eat foods like popcorn, seeds, or nuts, under the assumption that small, hard kernels might become trapped in the diverticula and cause irritation. However, more research has shown that eating these types of foods does not seem to cause flare-ups of diverticulitis.
If these treatments do not help to relieve diverticulitis pain, or if a complication like an abscess or perforation in the colon wall develops, surgery may be necessary. The most common surgery for diverticulitis is a colon resection, which involves removing the part(s) of the large intestine that have been damaged. Sometimes it is not possible to repair the colon completely, and in these cases, a person may have to have a colostomy.
Acupuncture and TCM offer an alternative or adjunct treatment for diverticulitis that can help reduce inflammation in the bowel and relieve abdominal pain.
Can Acupuncture Help Diverticulitis?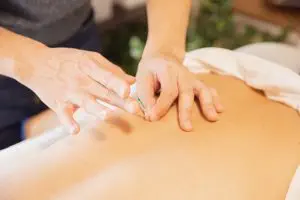 An acupuncturist will make a TCM diagnosis based on where and what kind of abdominal pain and other diverticulitis symptoms a patient is experiencing. According to TCM theory, pain and problems with the digestive organs can be related both to stagnant Qi (life energy) or blood in that area, and the presence of a pathogenic force like dampness, heat, or cold. 
The quality of diverticulitis pain and how it changes when you eat or move your bowels will provide clues as to what the root cause is.
In TCM, the spleen is considered to be responsible for turning nutrients into energy; when it is not functioning well, a person may have diarrhea. Strengthening the spleen is usually an important part of TCM treatment for diverticulitis and other digestive disorders.
Your acupuncture practitioner can help relieve symptoms like nausea, constipation, diarrhea, bloating, and stomach pain, while also helping to heal and strengthen the lining of the intestines and reducing inflammation. Boosting immune function will help prevent further infections.
It is generally necessary for a person with diverticulosis to make changes in their dietary habits. While increasing intake of fiber and fluids is important, there are probably even more specific foods that are triggering the dysfunction of the gastrointestinal system, creating excess heat or dampness in the internal organs. TCM nutrition views all foods as having properties that either cool or warm the body. So, your acupuncturist will be able to advise you on what food program will work best to balance your health.

In general, nourishing broths, soups, and well-cooked vegetables with lean proteins and whole grains with plenty of fiber are the best diet for people with diverticulitis. Avoid cold, raw foods, fatty foods, red meat, and dairy.
Acupuncture Near Me for Diverticulitis In West Los Angeles
Acupuncture and TCM provide an effective way to treat abdominal pain and gastrointestinal disorders of all kinds. At Art of Wellness, we have over 35 years of experience helping people find pain relief and improve their digestive health.


*This article is for education from the perspective of Traditional Chinese Medicine only. The education provided by this article is not approved by FDA to diagnose, prevent, treat and cure human diseases. It should not stop you from consulting with your physician for your medical conditions. Traditional Chinese Medicine is based on Qi, which is an invisible force that usually cannot be observed by modern science. Because science focuses on testing ideas about the natural world with evidence obtained through observation, these aspects of acupuncture can't be studied by science. Therefore acupuncture and Chinese herbs are often not supported by double-blind, randomized trials, and they are considered alternative medicine therapies in the United States.