By Xiaomei Cai, L.Ac., Ph.D. & Qineng Tan, L.Ac., Ph.D.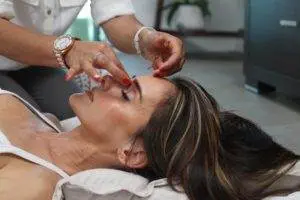 Looking for a treatment that can help smooth fine wrinkles, boost collagen and firm skin? Maybe you've heard about cosmetic acupuncture, also known as facial rejuvenation, or an acupuncture face lift, and you're wondering if it really works. TCM and acupuncture offer a natural, health-centered skin care alternative to surgery and other  procedures for people of all ages who want to look younger and more well-rested.
We all want to look in the mirror and see ourselves looking our best. Cosmetic procedures like plastic surgery and minimally-invasive aesthetic treatments have increased by well over 200% in the past twenty years. People of all genders and ages are showing more interest than ever in anti-aging treatments that can tighten, tone, and brighten the skin, banish puffiness and dark circles under the eyes, clear acne blemishes and scars, and reduce the appearance of wrinkles. While advances are continually being made in the field of aesthetic medicine, and the stigma surrounding such treatments has been largely reduced, some of these procedures can be harsh and invasive. Many people may prefer to seek a natural alternative.
The TCM approach to skin care is holistic and health-oriented, focusing on creating healthy, lively skin from the inside out. Finding the root internal causes of dull, sagging skin, lack of muscle tone, dryness and other skin problems, and treating them with targeted acupuncture points, herbs used both topically and internally, and the right nutrition program, can all lead to a more youthful and invigorated appearance. The results, of course, will not change your face so dramatically that you look like a different person. It is important that any time you consider an aesthetic procedure, you manage and maintain realistic expectations. But cosmetic acupuncture treatment can help you to feel better about yourself, inside and out.
What Is an Acupuncture Face Lift?
Cosmetic acupuncture, while seeking to improve the overall appearance of the face and neck, is really based in optimizing the patient's health throughout the body. Acupuncture needling works on several levels. Usually, we explain how stimulating points with acupuncture affects Qi (life force energy) as it flows through the meridian pathways of the body, producing changes in the function of the organ systems. But it also works on the skin-deep level, creating micro-trauma to the skin and underlying tissues that triggers repair and rebuilding. If you have had acupuncture before, you might have felt your acupuncturist gently turn the needles after inserting them. Research has shown how this age-old technique actually does produce a direct effect on collagen fibers. This is partly why acupuncture treatment helps you heal from musculoskeletal injuries and chronic pain conditions. It also helps your skin heal and regenerate.
Acupuncture is also proven to aid in the release of endorphins, which help you feel happier and more relaxed. We all know that a positive outlook can do wonders for your looks. Acupuncture treatment not only gives you the appearance of being well-rested; it actually helps you sleep better and relieves stress that can cause frowning and worry lines.
Your practitioner will choose specific acupoints to target your individual needs, addressing other skin concerns in addition to the signs of aging, including acne and rosacea.
Often, people notice a difference in their appearance right away, as even one treatment can help the skin take on a new glow, and most people emerge from their acupuncture session feeling that they have had a good rest. Generally, we recommend that, in order to see noticeable results, you start with 1-2 treatments per week for at least a few weeks, then continue with a monthly treatment to maintain the results.
A scientific study used topographic imaging to measure the contours of patient's faces as they underwent a course of five cosmetic acupuncture treatments. The researchers concluded, based on the images and patients' self-assessments, that facial cosmetic acupuncture produced significant improvement in skin elasticity. 
A systematic review of TCM cosmetic acupuncture study data showed that patients reported positive results, including: fewer wrinkles and better skin condition, with improved moisture content.
Cosmetic Acupuncture Vs. Botox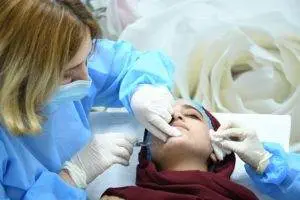 In recent years, Botox injections have become an extremely popular and acceptable way to combat the primary "problem" of aging skin: wrinkles. Facial skin is creased every time we move the facial muscles to express ourselves. Over time, as skin loses its elasticity, these creases become deeper and more defined. Botox (short for botulinum toxin) is a paralytic agent, which means it temporarily "freezes" or paralyses the muscles that lie under the skin of the face, so that they will not move when a person frowns or smiles. This helps prevent the formation of deeper lines between the eyebrows, for example, or along the nasal-labial folds on either side of the mouth. 
While Botox injections are widely considered safe these days, there are risks involved with treatment. Minor short term side effects can include redness, swelling, headaches, or nausea. In some instances, the muscle paralysing action can spread to more necessary parts of the facial musculature, causing speech problems, trouble swallowing, or trouble breathing. It can also cause parts of the face to droop due to muscle weakness. While many people have experienced satisfaction with wrinkle reduction due to Botox treatment, we have probably all noticed cases in which a person ends up looking unnaturally startled, lop-sided, or simply incapable of normal expression.
The effects of Botox are temporary, and in order to maintain the smoother skin, people must return for more injections every few months. Facial acupuncture, too, should be performed regularly to maintain results, but TCM offers a more comprehensive approach to smoothing and preventing wrinkles by boosting collagen production and circulation, improving skin elasticity. Massage techniques such as Gua Sha can firm and tone the facial muscles so that the whole face still moves naturally. Botox injections don't do anything to improve the health of your skin or light up your eyes from within. Facial rejuvenation with TCM is essentially a risk-free procedure that can provide natural-looking results.
The TCM Approach to Skin Care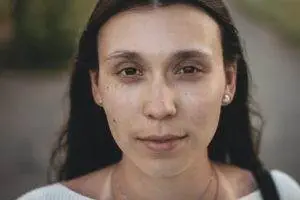 One of the subtler techniques used by TCM practitioners is that of examining a patient's physiognomy; that is, deducing problems of physical, emotional, and spiritual health by "reading" a person's face. We can also tell a lot about a person's internal condition by studying the skin and nails on their hands. This is an art that the acupuncturist can only master with many years of experience.
For example, if there is a tendency to develop dark circles or bags under the eyes and bruise easily, this indicates a stagnation of blood circulation. That deep crease or "frown line" between the eyebrows may indicate a Liver Qi stagnation. The acupuncturist will choose points to stimulate based on each individual's constitution, working on deeper levels of stagnation in the organ systems, while also targeting specific muscles in the face and neck that need toning.
Naturally, we also use herbs to help nourish the skin. Traditionally, poultices or face masks have been used to directly bring nutrients to the facial skin, while internal herbs taken as teas help to clear heat and dampness from the body. Your TCM provider may also use cupping to draw out toxins and stimulate the lymphatic system; basically, this is like a deep cleaning for your whole body. 
Top 5 Tips for Natural Skin Care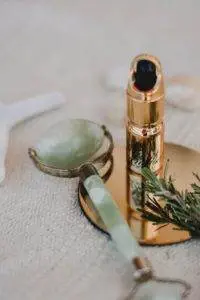 We cannot emphasize enough that glowing skin starts within. You may already have a daily skin care routine that involves cleansers and moisturizers, but for the best results, be sure to focus equally on keeping the whole body hydrated, cool, and free of toxins. No matter what age you are right now, you can start making your skin a priority with these simple practices:
Drink water and green tea – plenty of water keeps the skin cells "plump." Green tea has been used for centuries to help maintain clear, hydrated skin.

Get plenty of sleep – There is solid reasoning behind the expression "I need my beauty sleep." Our cells regenerate and repair themselves while we sleep; this is when the collagen production happens, so give your body plenty of time to do its work. 

Eat the right foods – for healthy skin, make sure to take in enough Omega 3 fatty acids (found in fish oil, good quality eggs, and fresh walnuts), and eat more cooling foods. These include: melon, cucumbers, citrus fruits, cabbage, seaweed, and other greens, mung beans, and soy foods like tofu and tempeh.

Reduce stress –  Stress negatively impacts your skin in a number of ways. Stress can contribute to acne, bags under your eyes, rashes, worry and frown lines, and dryness. Make stress reduction a top priority to improve the overall health of your skin.
Sun Protection – Getting a little sun (about 30 minutes of exposure) every day is important for the proper functioning of your immune system, but too much sun can be damaging to the skin. Whenever possible, protect your skin with light garments and a hat; this is preferable to the constant use of cosmetic sunscreens, most of which contain potentially toxic chemicals. When you must expose more skin to the sun's rays, use a sunscreen with natural ingredients. 
Cosmetic Acupuncture Near Me
If you've been thinking about what sort of medical aesthetic treatments might be right for you, try cosmetic acupuncture for a more youthful look without any side effects or recovery time. There really is no down side to an acupuncture face lift; in fact, your acupuncturist can treat all of your health concerns–back pain, headache, menopause, etc.–,and add the needles for facial rejuvenation all in the same treatment session. Maybe it's time to give yourself the gift of a little lift with cosmetic acupuncture.
*This article is for education from the perspective of Traditional Chinese Medicine only. The education provided by this article is not approved by FDA to diagnose, prevent, treat and cure human diseases. It should not stop you from consulting with your physician for your medical conditions. Traditional Chinese Medicine is based on Qi, which is an invisible force that usually cannot be observed by modern science. Because science focuses on testing ideas about the natural world with evidence obtained through observation, these aspects of acupuncture can't be studied by science. Therefore acupuncture and Chinese herbs are often not supported by double-blind, randomized trials, and they are considered alternative medicine therapies in the United States.