By Xiaomei Cai, L.Ac., Ph.D. & Qineng Tan, L.Ac., Ph.D.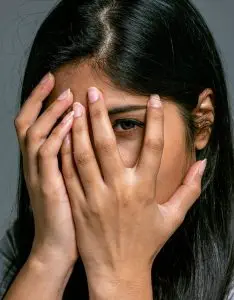 Acne breakout, pimples, blackheads? Painful cystic acne and acne scars can affect your confidence and even lead to depression. Acupuncture and TCM provide an alternative skin care option to treat hormonal acne and clear up blemishes.
What causes acne? Acne is a skin condition in which bumps on skin form when hair follicles become clogged with dirt and oil. Sebum, the natural oil produced by skin glands, builds up in the pores and causes blockages. Pimples may appear on the face or other parts of the body (back acne, chest acne, bumps on arms, pimples on scalp/scalp acne, etc.).
Acne is most common during the teenage years, but people of any age can experience skin breakouts. Acne is also influenced by fluctuations in hormones, reactions to cosmetics or foods, weather, and perhaps most commonly, stress.
Rosacea is another skin condition that typically causes redness, flushing, and visible blood vessels on the skin, but it can also cause red bumps to break out, similar to acne. This is known as "acne rosacea."
Everyone gets a few pimples at some point in their lives. However, severe acne that causes scarring can have a serious impact on a person's confidence in daily life, as well as being physically painful. 
There are many types of products and acne medication available, both over the counter or with a prescription, including: benzoyl peroxide, retinol for acne cream, acne patch, and acne face wash. 
Topical treatment for acne may clear blemishes on a skin-deep level. Acupuncture and other TCM skin treatments can help get rid of acne and other skin problems, like rosacea, dermatitis, and eczema by addressing the root causes: hormonal imbalances, inflammation, and stress.
Types of Acne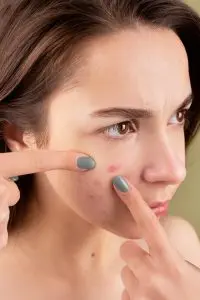 Acne blemishes can show up in different forms. The most commons types of acne include:
Whiteheads – small, closed, white bumps that develop when a pore is clogged 

Blackheads – open bumps that are filled with oil and dead skin

Red bumps on skin – papules are hard, red, inflamed bumps on skin 

Pustules – a papule that has a pus-filled tip

Nodules – large, painful red bumps

Fungal acne or bacterial acne – when red bumps are caused by bacteria or yeast clogging the follicles

Acne rosacea – rosacea can cause acne-like breakouts in addition to red flushing

Cysts or Cystic acne – large, painful, nodules that are deep down, under many layers of skin
Cystic acne is considered to be the most severe type of acne. The deep, inflamed cysts can get very big, last a long time, and leave permanent scars. Cystic acne may be genetic, as it tends to run in families. 
Hormonal acne, which is also called "adult acne," occurs because fluctuations in reproductive hormones like progesterone and estrogen and the stress hormone cortisol stimulate the overproduction of sebum. This kind of acne is most common among women in their 20s through their 40s.
Many women have breakouts that occur cyclically, coinciding with their PMS week or their period. Women may also experience pregnancy acne during the postpartum period. Women over 40 may have unexpected patches of pimples during perimenopause and menopause. Acne is also common among women with PCOS (polycystic ovarian syndrome).
Advanced Dermatology Acne Treatment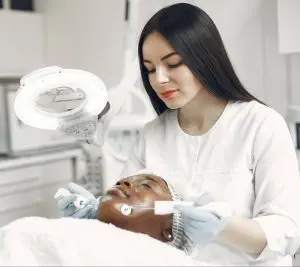 Dermatologists have tools that allow them to help remove pimples, known as acne extraction or blackhead extractions. Injections of corticosteroids can help reduce inflamed blemishes.  Laser resurfacing can help minimize acne scarring.
A dermatologist can also provide acne medication. Cystic acne and hormonal acne will usually be treated with oral birth control pills to help manage hormone levels. Spironolactone is also sometimes prescribed; this is a diuretic, usually used to treat high blood pressure, that also has an effect on the hormones that control oil secretions.
Isotretinoin, also known as Accutane, is a medication used to treat severe acne, cystic acne, or nodules. Antibiotics are usually prescribed to help clear bacterial acne or fungal acne.
Many of these courses of treatment can cause unwanted side effects, and they do not get to the root cause of the hormone imbalance or internal toxicity.
TCM and acupuncture provide a way to get rid of acne that works from the inside out.
Can Acupuncture Help Acne?
According to TCM theory, skin problems reflect imbalances that originate deeper in the body. Heat and dampness are pathogenic forces that can take root in the organ systems. When heat "overflows" due to imbalances in the digestive or reproductive organs, the body tries to release some of the excess by allowing it to erupt out of the skin.
Acupuncture for acne can both help at the deeper, root level and on the surface of the skin.
We use meridian acupuncture points to target the internal organs that are creating toxic levels of heat or producing too much of some hormone. Then, we also use needles to stimulate the localized areas of the skin that are affected by the breakout and encourage healing. 
Acupuncture treatment for acne will often focus on clearing heat from the stomach, intestines, liver, and lungs. This will help lead to fewer breakouts.
Acupuncture needles can be placed on the face where blemishes occur. The tiny "wounds" created by the very thin needles bring blood flow to the area and encourage the body's repair and rebuilding mechanisms. The thin needles create a micro-trauma that brings blood flow to the area and encourages the body's repair and rebuilding mechanisms to kick in. This is why acupuncture is also effective as an anti-aging treatment and a good alternative to botox injections.
One study showed a 94% effective rate for patients given 10 sessions of acupuncture for acne. A systematic review of acupuncture treatment for acne concluded that TCM offered an alternative with fewer side effects than conventional medical treatment.
TCM skin care for acne is highly individualized. An acupuncturist finds clues about which organ system is out of balance by observing the placement and appearance of recurrent breakouts, in addition to other symptoms related to digestion, hormone cycles, and emotional health. Cupping is another TCM treatment that can help draw out toxins and excess heat and improve circulation. Herbal supplements and dietary recommendations will be based on each person's individual situation.
Top 3 Tips to Get Rid of Acne Naturally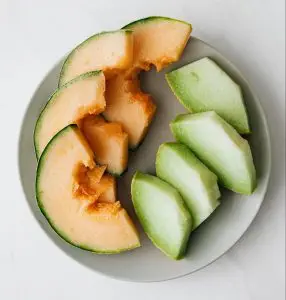 Reducing stress is probably the most important thing you can do to help stop breakouts from happening. It is also generally advisable to avoid or limit spicy or greasy foods. Here are some of our best tips for clear skin.
Start your day by drinking a cup of warm water with slices of lemon.

Eat cooling foods and avoid foods that produce heat. Melons, mung beans, and radishes are top choices, along with lots of greens and purple-blue berries and plums.

Try a homemade skin mask made from cooked, mashed dandelion greens. Apply for 20 minutes to get rid of blemishes and redness. Dandelion is a natural antibacterial and antifungal herb and is also good for the liver.
Acupuncture Near Me for Acne in West Los Angeles
Acne affects almost everyone at some point in their life. Breakouts can have a negative impact on your self-esteem, especially when we live in a culture that is so focused on appearances. The best acne treatment involves reduction of stress and inflammation, good nutrition, and restoring internal balance. At Art of Wellness we have over 30 years of experience helping patients heal skin conditions of all kinds.

*This article is for education from the perspective of Traditional Chinese Medicine only. The education provided by this article is not approved by FDA to diagnose, prevent, treat and cure human diseases. It should not stop you from consulting with your physician for your medical conditions. Traditional Chinese Medicine is based on Qi, which is an invisible force that usually cannot be observed by modern science. Because science focuses on testing ideas about the natural world with evidence obtained through observation, these aspects of acupuncture can't be studied by science. Therefore acupuncture and Chinese herbs are often not supported by double-blind, randomized trials, and they are considered alternative medicine therapies in the United States.