By Xiaomei Cai, L.Ac., Ph.D. & Qineng Tan, L.Ac., Ph.D.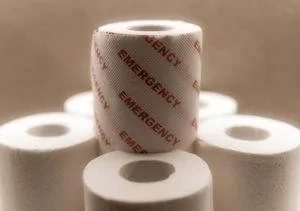 Bleeding and discomfort when you go to the bathroom? Burning or itching around the anus? Hemorrhoid pain is caused by swollen blood vessels around the rectum. Acupuncture and TCM reduce inflammation and can bring swift hemorrhoid relief.
Sometimes called "piles," (from the Latin "pila," meaning "balls"), hemorrhoids often do resemble little balls or clusters of grapes. The word "hemorrhoid" actually refers to the specific formation of blood vessels and cushioning tissues that surround the anus. Colloquially, though, the term is usually used to describe the condition of inflammation and irritation that can occur in this area.
Hemorrhoids are very common; probably more than half the population experiences them at some point in their life. However, the discomfort of talking to a doctor about hemorrhoids can be almost as miserable as the physical discomfort of having them, so many people avoid getting hemorrhoid help.
How do you know if you have a hemorrhoid? Sometimes people have a lot of itching, burning and discomfort after a bowel movement, or throughout the day. Sometimes there is no pain, but you may see a little bit of blood in the toilet bowl, or when you wipe with toilet paper. When you touch the area, you may feel a lump, or swollen tissue.
Hemorrhoids are generally classified into two categories based on their location: internal hemorrhoid and external hemorrhoid. Internal hemorrhoids form inside the anus and lower rectum and can cause bleeding, usually without pain. In some cases, though, the swollen veins can protrude out from the anal sphincter during or after a bowel movement and then need to be pushed back in. This is called a "prolapsed internal hemorrhoid." The situation can become more serious if the internal hemorrhoid can't be pushed back in, or if a blood clot develops in the vessel (thrombosis); then, it becomes painful to go to the bathroom, or even sit. In some cases, a prolapsed hemorrhoid becomes "strangulated," meaning the blood supply is cut off, which can cause severe pain. Hemorrhoids become prolapsed because the connective tissues in the area weaken due to intense pressure, usually due to straining during a bowel movement, or because of the extra weight of pregnancy or obesity.
External hemorrhoids develop outside the anus, under the skin. These are the kind of hemorrhoids that tend to cause itching and a little bit of bright red bleeding. Again, they are aggravating, but not too serious unless a blood clot forms; then, it is called a "thrombosed external hemorrhoid." This type of hemorrhoid can turn blue or purple in color and become acutely painful. In some cases, surgery will be performed to drain blood from the clot, or remove the hemorrhoid.
Most of the time, people suffer quietly with hemorrhoids, waiting for them to go away on their own. Only when they cause severe pain and bleeding are medical treatments considered. However, TCM and acupuncture offer a way to deal with hemorrhoids so that they heal more quickly and reduce the chance to return.
Top 10 Hemorrhoid Causes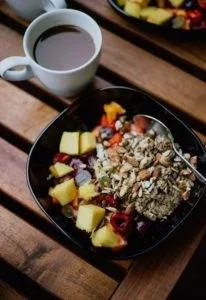 What causes hemorrhoids? The tissues and blood vessels around the anal area can become weak, irritated, and inflamed. The upright posture of our human bodies naturally puts pressure on the elimination organs. Many women get hemorrhoids during pregnancy and/or birth because of intense pressure on the perineal area.The major reasons for hemorrhoids include:
Pregnancy

Sedentary lifestyle

Straining while on the toilet

Sitting too long on the toilet without progress

Lack of dietary fiber

Obesity

Family history of hemorrhoids

Aging
Overall, focusing on eating a diet that includes plenty of fiber, drinking enough water, maintaining good bathroom habits (going when you feel the urge and not waiting) and a healthy weight will go a long way towards preventing hemorrhoids. But what can you do when you already have hemorrhoids?
Treatment for Hemorrhoids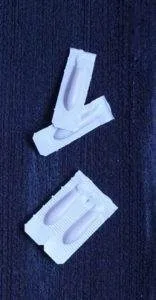 Often, people will just deal with hemorrhoid itching and pain on their own by using over-the-counter products like creams that contain phenylephrine, which constricts blood vessels (Preparation H), or disposable wipes impregnated with witch hazel and other soothing ingredients (Tucks medicated pads). These treatments may help reduce pain and swelling temporarily, but they do not get rid of hemorrhoids at their root.
When people do talk to their doctor about hemorrhoids, they may be prescribed something stronger, like a steroid cream, or hydrocortisone rectal suppositories.
If the situation persists or becomes more severe, there are several types of outpatient procedure to treat hemorrhoids, including rubber band ligation, sclerotherapy, infrared photocoagulation, and electrocoagulation. All of these procedures cut off blood supply to the hemorrhoid, so that it will form scar tissue and fall off. Hemorrhoid stapling and hemorrhoidectomy are outpatient procedures in which the hemorrhoids are surgically removed, and/or prolapsed tissues are affixed back inside the anus. While these surgeries may be helpful in some cases, recovery can be painful, and there can be problems with the way things work afterwards, potentially leading to more surgery later on.
When hemorrhoids are severe, it is a good idea to consult your doctor, as there are more serious conditions that may produce similar symptoms of pain, itching, or bleeding, including anal fissure (torn tissue or open sore in the anus due to trauma or Crohn's disease complications), anal abcess (infected cavity in the anus) or anal fistula (an opening from the anal or rectal area that drains pus and/or fecal matter). Sometimes skin tags develop around the area where a hemorrhoid has healed. These can be irritating and difficult to keep clean, so they may need to be surgically removed.
For the treatment of hemorrhoids, TCM methods can provide relief from symptoms and help to reduce the inflammation that caused them.
Can Acupuncture Help Hemorrhoids?
According to TCM philosophy, hemorrhoids can often be related to a build-up of heat and/or dampness in the lower abdominal area; it's the heat and dampness that cause the blood vessels to swell. You might be concerned by the idea that acupuncture treatment for hemorrhoids would involve needles being placed in a highly sensitive, private area. Let us reassure you this is not the case. The Du Mai meridian, also known as the "Sea of Yang," is the channel which runs from the rectum area up along the spine to the top of head and then down to the mouth, controlling Yang energy throughout the body. We use points along this meridian, on the top of the head, and in other parts of the body to draw excess heat and dampness away from the area where the hemorrhoids are.
Other presentations of hemorrhoids include:
Top 5 Types of Hemorrhoids Presentation in TCM
Spleen Qi Deficiency – This is when people tend to have poor digestion, bloating, gas, and diarrhea, going to the bathroom very often; the hemorrhoids feel swollen, but not as red. We use moxibustion to work on stomach point 36 meridian point, CV points 6 and 4, and spleen 6 in the middle of the abdomen to help digestion. 

Spleen Qi Sinking-  This presentation tends to happen to people who are thinner, not only having hemorrhoids, but all the organs tend to be lower than usual; may also have prolapsed bladder or uterus, and poor digestion. Moxibustion applied to the middle of the top of the head will head the Qi rise up. For both types, doing Kegel type exercises regularly can help to strengthen the rectal area, also the uterus and bladder. Do three sets, increasing a bit every time: for example squeeze 30 times, release, do again 35, rest, next 40, then rest. Do this exercise every morning and evening.

Blood Stasis – This type is more and more common because of our modern lifestyle, due to sitting a lot for work, which causes blood circulation to be compromised. In Chinese, we have a proverb: "for 10 people who sit too long, 9 will have hemorrhoids." These manifest more as red, swollen, maybe bleeding. Kegels will also be helpful here, too.

Lower Jiao Fire/Heat – This is when the lower part of the body has too much fire. For this type of hemorrhoids, people tend to have more bleeding, especially triggered by having alcohol, spicy food, crunchy food. These are the kind that may feel very sore with a burning sensation and tend to bleed, especially when wiping. 

Intestinal Dryness – especially here in California, where we have hot, dry weather, without a good habit of drinking water, people can tend to constipation, even going only once or twice a week. These types of hemorrhoids are due to dry, uncomfortable bowel movements, and may have itching and bleeding. Adding more water (warm is better) and more moisturizing foods (sesame oil and lots of ripe bananas, flax seeds, chia, sweet potato/yam, prunes) will be helpful.
Kegel type exercise is helpful for all of these types, to strengthen the sphincter muscle and bring more circulation to the area. Add more movement overall. At bedtime, leg lifts, bicycle movements in the air, upside down, are a good way to exercise without putting pressure on the lower body.
Ideally, when there is good digestion, between 5:00 – 7:00 a.m. is when people should naturally want to go, quickly, without too much need to push. Sitting on the toilet for too long creates the pressure that leads to hemorrhoids.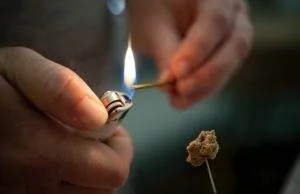 Moxibustion treatment–the burning of the herb mugwort near an area–can be very effective for reducing pain quickly. Chinese herbal formulations, used both internally and externally, can help relieve inflammation and pain. An herbal tea formula may include herbs to help strengthen the energy of the spleen, and to lubricate the digestive tract.
We also recommend sitz baths as a home remedy for hemorrhoids: short, 15-minute baths in warm water, to help soothe the area and keep it clean. Your acupuncturist may give you an herbal bath sachet to use to help reduce inflammation and soother the tissues.
One study of acupuncture treatment for internal hemorrhoids showed that, after 24 days, 86% of patients were "cured," while another 8% showed significant improvement.
Your acupuncture practitioner will also talk with you about changes you can make in your diet and bathroom habits that will help you get things moving more easily.
Acupuncture Near Me for Hemorrhoids
Hemorrhoids are not only irritating; they are a sign that you may need to pay more attention to what you're eating, and that you need to give yourself a little more time for relaxation, in and out of the bathroom. A combination of acupuncture, herbs, and other TCM treatment for hemorrhoids can help get the pain and swelling behind you.
*This article is for education from the perspective of Traditional Chinese Medicine only. The education provided by this article is not approved by FDA to diagnose, prevent, treat and cure human diseases. It should not stop you from consulting with your physician for your medical conditions. Traditional Chinese Medicine is based on Qi, which is an invisible force that usually cannot be observed by modern science. Because science focuses on testing ideas about the natural world with evidence obtained through observation, these aspects of acupuncture can't be studied by science. Therefore acupuncture and Chinese herbs are often not supported by double-blind, randomized trials, and they are considered alternative medicine therapies in the United States.