by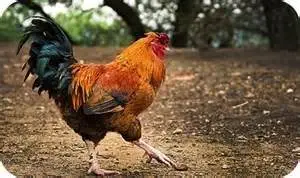 Qineng Tan, L.Ac., Ph.D
The Chinese calendar welcomes the New Year on January 27, 2017: the Year of the Fire Rooster.
It will probably come as no surprise that one of the Rooster's outstanding characteristics is punctuality. The rooster crows to get us all up and moving and ready to face the day. Smart, confident, not afraid to speak up, the Rooster has lots of energy and self-discipline. The Rooster is raring to go, with lots of ideas, and doesn't want to have to wait for others to catch up. This is the year of the Fire Rooster, which specifically points to trustworthiness and a knack for handling money. So, all of us should take note – this is the year to start a beneficial morning routine and keep our finances well-organized.
The Rooster takes pride in his fine feathers and has been known to strut around, showing off and being overtly flirtatious. He might tend to lecture a bit too much and be a little bit too certain that he is always right, but make no mistake – he is paying attention and noticing everything about others, too. Roosters are a great communicators who enjoys giving gifts and creating a welcoming environment. They don't hide or keep secrets; they put themselves out there, just as they are.
Roosters can be impatient and tend toward perfectionism, so they are bound to feel high levels of stress at times. For everyone this year, the challenge is to find time and ways to channel the energy – cardiovascular exercise like running and swimming are beneficial – and relax – by spending time outdoors and travelling. Make a point of eating regularly and healthfully, no matter how busy you are, and keep up with preventative health measures like getting acupuncture treatment.
We wish you and your loved ones the very best in health and happiness in the coming year. From all of us at Art of Wellness, Gong Xi Fa Cai!
Here are some ideas for creating a morning routine inspired by the Rooster:
Rise with the sun.

Drink a cup of warm water with sliced lemon, then wait 30 minutes before eating.

Take time to meditate and set your intentions for the day. Get some fresh air and do some breathing exercises before you start checking your emails and the news.

Eat a breakfast of whole grains.