By Qineng Tan, L.Ac., Ph.D., & Xiaomei Cai, L.Ac., Ph.D.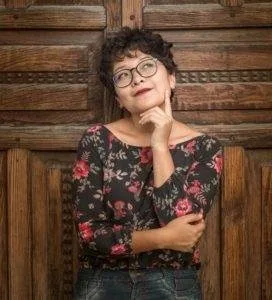 Changes in mood, appetite, hair, and skin?  Wondering whether these could be signs of menopause; or could it be a thyroid problem? The symptoms of hyperthyroidism are often similar to what we think of as typical signs of menopause. Acupuncture treatment has been shown to be effective at helping to manage many types of endocrine system conditions, including hyperthyroidism, Graves' disease, and Hashimoto's thyroiditis.
Hyperthyroidism, sometimes called "overactive thyroid," refers to a set of various disorders in which the thyroid gland produces excess hormones. This leads to thyrotoxicosis, a condition in which there is too much thyroid hormone in the body. Sometimes this is indicated by a visible swelling of the thyroid gland in the front of the neck, known as a "goiter."
Thyroid disorders are much more common in women than in men, and they often develop in young adulthood, between the ages of 20 and 40. However, people of any age can show signs of hyperthyroidism. In older adults, the symptoms of an overactive thyroid can be subtle, and easily confused with those of other hormonal imbalance conditions such as perimenopause symptoms and diabetes. It can often be difficult and take years for patients to be diagnosed with a thyroid disorder, and then to find the right treatment to solve their problem. Hyperthyroidism can have different root causes, and treating it effectively requires finding the correct source of the problem.
It is important to address thyroid problems because hyperthyroidism increases the risk for heart disease and osteoporosis. There is some evidence that people with Graves' disease are at higher risk for developing thyroid cancers. Acupuncture has been shown to be a safe and effective alternative or adjunct treatment for all kinds of thyroid disorders. The TCM approach can help correct the symptoms of excess thyroid hormone by restoring balance at the source of the problem.
Top 5 Causes of Hyperthyroidism
Several different factors can lead to enlargement or inflammation of the thyroid and the overproduction and output of thyroid hormones. Some causes of hyperthyroidism include:
Hyperthyroidism can develop due to nodules or a multinodular goiter on the thyroid gland, which causes it to secrete extra hormones. 

Thyroiditis, swelling of the thyroid gland, can linger after a viral infection. Some thyroid problems are caused by autoimmune disorders. 

Graves' disease causes antibodies to mistakenly attack the tissue of the thyroid, causing inflammation and overproduction of thyroid hormones. 

The thyroid gland uses the mineral iodine to make thyroid hormones, so sometimes hyperthyroidism is linked with too much iodine in the diet, often due to the use of certain supplements. 

Sometimes people are prescribed hormone replacement medications, and taking too much of them leads to hyperthyroidism.
Hashimoto disease also attacks the thyroid gland, but in that case, it causes the thyroid to stop producing enough hormones, leading to hypothyroidism. 
Top 10 Signs of an Overactive Thyroid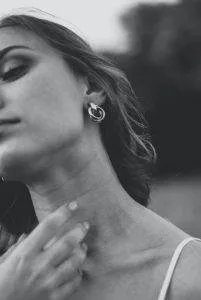 The thyroid gland is located on the lower front of the neck, beneath the larynx, or voice box. Check for signs of swelling that might indicate an enlarged thyroid (goitres) by watching in a mirror as you tilt your head back slightly and swallow a mouthful of water. If you notice any bulging, have it checked by a doctor.
Other signs and symptoms of hyperthyroidism include:
Nervousness or anxiety, a "hyperactive" restless feeling

Fast or irregular heart rate

Irritability

Unexplained weight loss, constant thirst and hunger

Having to urinate frequently and/or loose bowels

Difficulty sleeping

Itchiness or "twitching" 

Sensitivity to temperatures, excessive sweating, red hands

Swelling in the neck

Loss of libido
As you can see, many of these are often associated with menopausal symptoms: feeling hot and sweaty (hot flashes), low libido (vaginal atrophy or dryness), irritability/sensitivity, sleep problems, etc. 
When hyperthyroidism is caused by an autoimmune disorder, there is often noticeable bulging or protrusion of the eyes. This is called Graves' ophthalmopathy, Graves' eye disease, or Thyroid Eye Disease (TED). This happens because some of the tissues around the eye are chemically similar to those of the thyroid gland, and the immune system is attacking those cells, resulting in inflammation around the eye. This can cause blurry vision, dryness because the lids can't close fully over the eyeball, and headaches because of pressure behind the eyes. Changes in hair texture or loss of hair are another sign of Graves' disease.
Hormone Testing for Thyroid Problems
The endocrine system is very complex and relies upon the harmonious functioning of several different endocrine glands producing hormones that work in concert to maintain stability of a person's whole life process: waking, sleeping, self-regulating temperature, eating and digesting, and many other more subtle processes. The proper working of the thyroid gland is in close relationship with the pituitary gland and the hypothalamus, both located in the brain.
The thyroid gland produces various hormones which have to do with growth, metabolism, and reproduction, including thyroxine (T4) and triiodothyronine (T3). The pituitary gland produces TSH (thyroid stimulating hormone), which triggers production of the thyroid hormones T4, T3, and others. Thus the pituitary gland is responsible for gauging how much thyroid hormone is flowing through the body in the bloodstream, and making adjustments as necessary. 
When a thyroid problem is suspected, the first kind of testing done is usually a TSH blood test. A TSH test showing a high TSH level would suggest that thyroid hormone levels are low, and that the pituitary gland is making more TSH to try to stimulate production, while a low TSH would indicate that the thyroid may be producing too much hormone, and the pituitary gland is trying to slow down production. Either kind of abnormal TSH level might lead to more specific testing to determine levels of T4, "free T4 (FT4)," or T3.
Medical treatment for hyperactive thyroid depends on what is causing the problem. If the thyroid is producing too much hormone "autonomously," that is, if there are normal TSH levels and the pituitary gland seems to be functioning, then radioactive iodine is usually employed to bring down the thyroid hormone levels. When the problem is an autoimmune problem, as in Graves' disease, a course of "anti-thyroid" medication, such as thiamazole, may bring the hormone levels back to normal. An enlarged thyroid gland may indicate a surgical solution.
Can Acupuncture Help Thyroid Problems?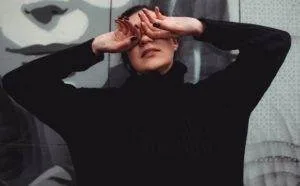 In TCM philosophy, most disease stems from imbalances in the key energies of the body and spirit. "Qi" a life force energy that flows along pathways through the body called "meridians," must be kept strong and flowing freely; if Qi is weak, or the meridians are blocked, certain organs will not get the nourishment they need, and illness will result. Yin and Yang are two energies that work together in opposition to maintain balance, like a scale. If either Yin or Yang becomes dominant, the other one becomes weaker, and there will be problems of "deficiency" and/or "excess."
In the case of an overactive thyroid, the constant striving of Yang energy creates a deficiency of Yin, and the overall Qi energy is also weakened. The hyperactive energy of hyperthyroidism is interpreted through TCM as being related to heat, and especially too much fiery energy from the liver. We view blockages as being related to stagnation of Qi, or blood, or phlegm. In this case, phlegm stagnation is impeding the flow to and from the thyroid gland.
Liver heat causes symptoms like: redness of the skin, itchiness, irritability, hunger and high metabolism, and a quickened pulse. 

Weakness of Qi and Yin causes: trouble breathing, trouble sleeping, sweating, and dryness of the eyes and mouth. 

Phlegm stagnation is considered the reason for the swelling of the thyroid gland itself.
TCM treatment for hyperthyroidism uses acupuncture and individualized herbal formulations to clear heat and phlegm, strengthen Qi and Yin, and cool down liver fire and overworked Yang.
One study showed improvement in hyperthyroid symptoms of over 88% of patients after having received a course of acupuncture, with some patients making full recoveries. A study that focused on the use of a specific Chinese herb formulation in addition to methimazole medication for patients with Graves' disease concluded that TCM herbs were effective as an adjunct treatment for helping to bring FT3, FT4, and TSH levels back to normal.
Acupuncture Near Me for Hyperthyroidism
Disorders of the thyroid and the endocrine system in general, especially those that are related to autoimmune disorders, can be very challenging to manage. At Art of Wellness, we have over 30 years of experience dealing with all types of hormone imbalances. The TCM approach offers a highly personalized course of treatment for hyperthyroidism, which can be a valuable adjunct to conventional medicine. If you or someone you know suspects they may have an overactive thyroid, consider consulting with a qualified acupuncturist as part of your health care plan.
*This article is for education from the perspective of Traditional Chinese Medicine only. The education provided by this article is not approved by FDA to diagnose, prevent, treat and cure human diseases. It should not stop you from consulting with your physician for your medical conditions. Traditional Chinese Medicine is based on Qi, which is an invisible force that usually cannot be observed by modern science. Because science focuses on testing ideas about the natural world with evidence obtained through observation, these aspects of acupuncture can't be studied by science. Therefore acupuncture and Chinese herbs are often not supported by double-blind, randomized trials, and they are considered alternative medicine therapies in the United States.