By Qineng Tan, L.Ac., Ph.D. & Xiaomei Cai, L.Ac., Ph.D.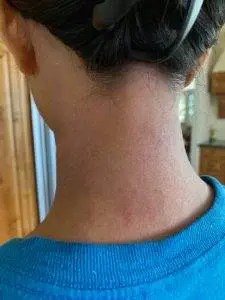 Skin rash with itchy welts or red bumps that seem to appear suddenly, then move to another part of the body, or go away? Hives, also known as urticaria, are caused by a type of allergic reaction that creates a temporary rash or swelling of the skin. TCM and acupuncture have been used for centuries to help relieve hives caused by allergies.
Hives are fairly common, occurring in about 20% of people of all ages. An acute, or short-lived, case of hives may occur because of being exposed to some unusual, new chemical or natural irritant in a person's environment, maybe in some product, or some pollen or bug. These usually go away quickly, and it may be fairly obvious what it was that caused the outbreak of hives. However, sometimes people develop chronic idiopathic urticaria (CIU), in which a person may break out in hives often on an ongoing basis and have no idea why it keeps happening.
Allergies can manifest in many ways: sometimes causing sneezing, watery eyes, or skin problems. Hives are another way that an allergic reaction can show up. Hives, or urticaria, are distinguishable from other types of skin rash, like dermatitis eczema, or shingles rash, because, unlike other rashes, they do not form fluid-filled bumps or cause dryness, scaliness, or cracking of the skin. Rather, hives are raised welts on the skin that appear red, but then turn white when you press on them; this is known as "blanching." Hives can look like small, narrow lines, or big, patchy blotches.
Urticaria is related to, and sometimes confused with, angioedema, which is a similar condition, in which deep layers of skin become swollen, often around the eyes and mouth, also due to irritation by some allergen. Angioderma can coexist with hives, and can be more dangerous than hives, if it causes tissues in the throat or tongue to become so swollen that the airway is blocked.
Hives often clear up on their own within a few days or weeks without any treatment. However, some people develop chronic hives, in which the hives rash keeps recurring for weeks or months, or longer. Chronic hives can be a uniquely painful and frustrating condition; never knowing when you might break out into a burning, itchy rash. Hives worse at night or hives worse after sleeping are common experiences for people who suffer from chronic urticaria. Breaking out in hives can make a person feel panic, making it very difficult to get on with daily tasks. Acupuncture treatment can help alleviate the burning and itching of acute hives or chronic hives, and help relieve the allergies, stress, and other underlying conditions that bring them on.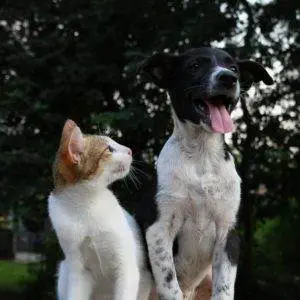 Top 10 Hives Causes or Triggers
In general, what causes hives most of the time is an allergic reaction to some external stimulus. Touching something, eating something, or inhaling something that you are allergic to can cause urticaria to break out on the skin, sometimes briefly, sometimes moving around from one area or the skin to another, or seeming to spread over the skin. Things that can cause hives include:
Foods, especially those that are well-known allergens like nuts, shellfish, dairy, and eggs, but also fruits, especially citrus fruits

Contact with certain plants

Pollen in the environment

Medications, including antibiotics, OTC pain relievers

Latex

Pet dander

External stimuli from the climate – sun exposure, heat, cold

Bacterial infections in the body, like strep throat or a UTI

Viral infections in the body, like colds, hepatitis or mononucleosis (viral hives)

Blood transfusions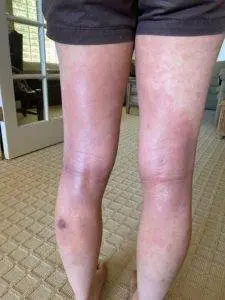 Insect bites or itchy rashes that cause you to scratch at your skin can also cause hives to appear in other areas. Simple pressure on the skin, from sitting or leaning on a patch of skin for a long time, can cause hives. Some people break out in hives when they are under a lot of pressure or emotional stress, even if they are not aware of having allergies or other underlying causes for hives. Sometimes this is called a "stress rash."
Treatment for Hives
Hives are most commonly treated with antihistamines, which can help relieve itching. Many people experience some type of side effect from taking antihistamines, including: headache, drowsiness, fatigue, and hay fever type symptoms. Some people do get relief from a temporary hives rash after taking Benadryl or something similar. But for others, it may not help, and then doctors often prescribe a corticosteroid as an anti-inflammatory. If steroid treatment for hives does not help, immunosuppressants may be recommended. Depending on the root cause of the hives, these types of pharmacological solutions may or may not work to relieve hives. Acupuncture and TCM treatment focuses on solving the deeper problems that cause hives, without any negative side effects.
How Can Acupuncture Help Hives?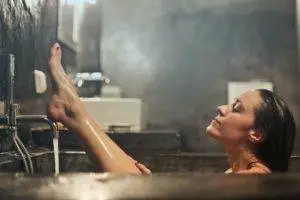 As we have seen, conventional western medicine mostly looks at hives in terms of allergies. But in order to resolve the hives, we have to look more closely at why a person has those allergies. Why are some people affected so strongly by certain foods or certain environmental conditions while other people are not affected at all? We have to consider a person's constitutional health.
As we have discussed in other articles, in TCM the concept of Wei Qi refers to the body's protective defenses, the action of which stems mainly from the lungs and the skin. Many types of illness are considered to be related to a weakness or breakdown in the Wei Qi that allows external pathogenic factors to enter the body and take hold. Wind is one such external pathogenic factor. Heat and cold are others. Viral and bacterial infections also find their way into the body when the Wei Qi energy is weakened.
6 Pathogenic Factors According to TCM:
Wind

Cold

Summer Heat

Dampness

Dryness

Fire
Hives come mostly from wind and heat. In TCM, urticaria is known as Feng Zhen Kuai, or "wind rash patch." Wind describes the nature of urticaria rash in the sense that the hives welts come and go, as if blown about. 
When people get hives, it is usually because of one of a few common factors.
Yin deficiency/Dryness – If the body is too dry, when any allergens get in, there is not enough moisture in the body to wash them out of the system; this causes the breakout.

Fire/Heat – If there is too much heat, fire, and inflammation in the body, when there is exposure to allergens, the body can't take any more and will break out.

Liver stagnation with Heat – When a person is under stress for a long time, it can exacerbate stagnation of Qi in the liver system, which over time causes heat to build up, then the body cannot process little irritations. The liver and kidneys have to do all the work to filter toxins out of the body, but when those organs are overstressed, the body will try to get rid of excess heat through the skin.
Usually, if a person is having chronic hives, it has a lot to do with their food and their habits around their exposure to the elements. For example, in the winter time, in order to be harmonious with the season, the body is meant to experience cold. But many people keep the heater on and keep their environment very warm all the time. This leads to dry air and can cause even people without any allergies to feel itchy. People also tend to take long, hot showers, which can destroy some of the skin's natural protective layers and cause it to be raw and easily irritated. 
In western thought, when a person has a reaction such as hives to certain foods (spicy foods, alcohol), it is thought of as an allergic reaction, but in Chinese medicine we see this as being the body's reaction to too much heat. If a person already has a fiery constitution, or liver stagnation, and then there are external hot conditions, and hot foods coming in all at once, the internal heat can explode out, creating the burning rash on the skin.
Cupping can be very helpful for treating hives; it exfoliates the skin and helps to draw toxins out. This will help to cool down the hives outbreak. Then we go further with acupuncture and herbs to strengthen the lungs, the liver, and the Wei Qi.
A systematic review of clinical trials studying the use of TCM methods and acupuncture to treat hives, both as an alternative and an adjunct to medication treatment, concluded that acupuncture is a safe and effective way to reduce symptoms of hives or chronic urticaria. Chinese herbs are also well-known for helping to relieve hives.
Top 5 Tips for Hives Relief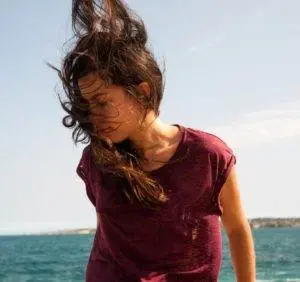 How to get rid of hives for good will mean paying attention to what triggers the rash for each individual. To avoid this kind of allergic reaction hives, protect your Wei Qi with healthy habits. Prioritize rest and good nutrition to build up your immunity and protect your lungs and skin.
Avoid a cold wind blowing on you, whether outside, or from a fan or air conditioner. Dress appropriately; always bring an extra layer so you don't catch a chill or have a bright sun shining on your skin for a long time when you didn't expect it.

Avoid very hot showers, baths, saunas, etc. 

Engage in regular exercise to help boost your blood circulation; walking is always ideal. This will help to reduce stress, as will a meditation practice.

Get plenty of rest. Good quality sleep is essential to help build up the Wei Qi.

Avoid foods that are either too hot (spicy or fried, red meats) or too cold (raw foods). No alcohol or coffee. These triggering foods and beverages can really make the hives worse. Drink more water to eliminate the dryness in the body.
If a patient is having trouble figuring out what it is that is causing his or her hives breakouts, a TCM provider may be able to find the underlying reason behind the rash.
Acupuncture Near Me for Hives
People of all ages can receive acupuncture treatment for hives and allergies like hay fever. The doctors at Art of Wellness have been helping people get relief from allergies and itchy skin conditions for over three decades. We can provide help for children with hives with herbs and acupuncture. If you or someone you love is suffering from hives, please consider giving TCM and herbs a try.
*This article is for education from the perspective of Traditional Chinese Medicine only. The education provided by this article is not approved by FDA to diagnose, prevent, treat and cure human diseases. It should not stop you from consulting with your physician for your medical conditions. Traditional Chinese Medicine is based on Qi, which is an invisible force that usually cannot be observed by modern science. Because science focuses on testing ideas about the natural world with evidence obtained through observation, these aspects of acupuncture can't be studied by science. Therefore acupuncture and Chinese herbs are often not supported by double-blind, randomized trials, and they are considered alternative medicine therapies in the United States.