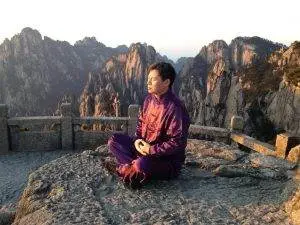 by  Qineng Tan, L.Ac., Ph.D.
One windy Winter day, a woman looked out her window and saw three elderly men sitting by the side of the road in front of her house. A generous lady, she went out and asked them, "Would you like to come in from the cold and have something to eat?"
The men smiled gratefully, but asked, "Is the rest of your family at home?" When the woman replied that they were not, but would be home a little later, the men said, "We will wait, then."
Later, when the woman's husband and child had returned, she went outside again and said, "Please, come in and have some dinner with us."
But one of the men explained, 'Only one of us can come in. This man is named "Wealth." And that one is named "Success." My name is "Health." Go in, talk with your family, and decide which of us you would like to invite into your home.
When the woman told her husband and daughter about this, her husband said, "Let's ask Wealth to come! That way, we won't have to work anymore." But the woman said, "Shouldn't we ask Success to come? Surely that would be the best choice." Then the couple's young daughter spoke up, "Why don't you ask Health to come in? That way none of us will ever get sick."
So the woman went out again and asked Health to come in. When he got up and began walking towards the house, Success and Wealth followed him.
"But–I thought–" said the woman. Then Health explained, "Wherever I go, Success and Wealth will follow."
Lesson: Health is our most precious commodity. When we start making room for healthy habits, we will be able to enjoy the success and wealth that comes our way.